Why Switches are Critical to Modern Industrial Sensors
Why Switches are Critical to Modern Industrial Sensors
By Mike Bolduc | November 27, 2019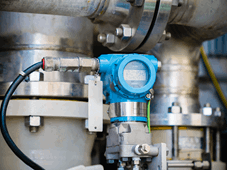 Robotics, artificial intelligence, machine learning and industrial IoT are leading the new age of automation. In many instances, machines now outperform their human counterparts in activities that range from parts assembly to more cognitive tasks. In fact, Market Watch suggests that factory automation has managed to reduce both the production time and cost of industrial goods. The publication notes the segment "…is expected to register a CAGR of over 8.4% during the forecast period 2019 – 2024." At the center of this new industrial revolution are sensor switches which can simplify both factory and process automation. Recently, Equipment News interviewed industry insider Peter Wienzek, who noted that smart sensors are crucial to the success of automation in an industrial environment. He characterized the technology as, "…the eyes, ears, and senses of every machine."
In a competitive global environment, companies need to focus on their ability to innovate. With the popularity of emerging technology accompanying Industry 4.0, the need for keeping up with innovation is now more critical than ever. Coupling sensor technology with mission-specific switches is the next logical step in that evolution. By giving sensors the ability to control the operation of the system, it removes the need for human monitoring of process flows, freeing-up personnel for more crucial tasks.
The Modern Industrial Setting
Sensors and switches are critical components in any modern automation process. Today sensor designers and manufacturers bringing the two components together to meet specific challenges. Critical safety switches enable personnel to shut down lines in the event of a failure of central systems, preventing damage to equipment and loss of life. Process control switches, on the other hand, can help to control which subsystems are operating and which are switched off.
Markets and Markets tells us that the process automation and instrumentation market will be worth over $95 billion by 2024. The reason automation is being adopted in such a broad fashion by industry is because it solves two fundamental problems process plants face:
The rising cost of labor makes automation an attractive option for businesses trying to control staff costs.
Safety in plants is of the utmost concern since companies face massive backlash in the event of a catastrophic failure of safety protocols.
Sensors will play an integral role in facilitating this adoption.
Typical Automation Sensors
Automation sensors are used across industries and in varied environments for factory automation and process automation. While each industry has specific needs, the array of sensors can include:
Proximity sensors: A proximity sensor can be either inductive or capacitive, depending on the type of material that the sensor is tasked with detecting.
Position sensors: Typically using photo-electric technology, these sensors are used to detect the position of various components in the assembly process, and are helpful in a variety of industrial applications, including the

 

automotive sector.
Pressure sensors: Using piezoresistive or equivalent technology, these sensors monitor pressure in tanks and pipes and are a critical safety component in the processing industry
Flow sensors: Automated flow switches monitor the flow rate of a fluid and determine whether to switch a subsystem on or off as required.
Sensors Rely on Good Switches
Where sensors are the nerves in automation, switches of varying sizes, and form factors facilitate human interaction with those sensors. C&K switches are coupled with almost every type of sensor application. For instance, tact switches like C&K's KSS and KSC3 can be used with a display screen or an LED-based menu for sensor setup and calibration.
C&K's KMT0 and KXT3 line of miniature top actuated switches work well in applications requiring a small footprint or an ability to withstand harsh environmental factors. They are also ideal as "teach" buttons for sensor calibration and provide tactile and audible responses to the user.
Both the KSC2 and KSC3 sealed tactile switches are ideal for applications in consumer, automotive, and industrial automation applications. While there are typically no switches on capacitive or inductive proximity sensors, C&K DIP and Tact switches are frequently used in the signal conditioners for these types of sensors.
For applications which require logic configuration or node addressing, C&K offers both standard and rotary style DIP switches.
Both types of switches are designed for low level logic switching and can be invaluable in IoT implementation. Because of their low profile and minimal power consumption, a DIP switch can be incorporated into most IoT applications.
Of course, there are also switches that complement factory automation to control displays on sensors, controllers, and other automation systems. The KMR2 is perfect for this application. For heavy industrial applications such as pressure transmitters used in tanks and piping systems, C&K manufactures both tact and dip switches specially made for those environments.
The Overlooked Necessity of Switches
Process plants that move towards increased automation need to have high-quality, dependable switches for the long-term success of their endeavor. While the switch is usually overlooked as a component, choosing the wrong switch for a sensor application can increase maintenance issues, user error, and reliability of the sensor.
Over the years C&K has played an integral part in a large number of mission-critical automation projects and continues to produce switches that are tested in industrial applications the world over. For businesses that want quality as a hallmark of their automation process, there is little doubt as to the choice they should make.