Medical Device Design: Will it Fit?
Medical Device Design: Will it Fit?

By Roger Bohannan | December 02, 2019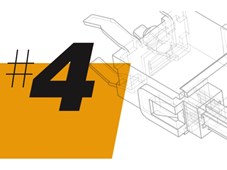 How Solutions with a Small Footprint Can Make a Big Impact
This is an excerpt from the medical white paper Designing the Ultimate Operator Experience. For the full white paper, download here.
Healthcare is undergoing a digital transformation.  Driven by advances in science and technology, the healthcare of our parents' generation is being replaced by an influx of new devices and systems that promise a better future by using data, artificial intelligence, and genetic markers to deliver an improved user experience, more accurate diagnoses and less invasive treatments to improved patient outcomes.
Minimally invasive surgery (MIS), such as robot-assisted surgery and laparoscopy has been a big growth segment in recent years. When a medical device is placed within a patient during such surgery, it will be a minimally invasive device. This technology utilizes techniques that limit the size of incisions needed, resulting in shorter recovery time, which has brought enormous benefits for patients. Here the requirements are for high-performance tact switch and the K12S key switches that combine form factors with the reliability needed when used on endoscopic cameras and electro-surgery instruments.
Other high-tech devices such as narrowband imaging, confocal micro-endoscopes, endoscopes and high-definition cameras will also require switches that are both compact and correctly oriented. With MIS devices, size is a critical factor in the design.
Furthermore, when it comes to medical wearables, which are being developed for a variety of medical problems such as COPD, asthma, breast cancer, pain management and heart arrhythmia, size and orientation can be all-important. The burgeoning use of communication is also influencing the design, as space is further limited by the addition of antennas, transmitters and extra circuitry. Even though the switches have less space, they still require all the functionality to interface with the user.