The road ahead for the evolving world of automotive switches
The road ahead for the evolving world of automotive switches
By Eric Grange | May 13, 2019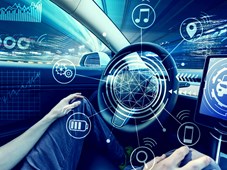 It is apparent to all that the automotive industry is entering an age of unprecedented change. Trying to predict what the future will be for cars in 10, 20 or 30 years is nigh on impossible. There are threats of disruption at every turn. The internal combustion engine on which the sector has been mostly built won't be any more the single powertrain solution of the industry, although there is life in it yet.
The industry faces a myriad of challenges: reducing emissions, light weighting, the digitization drive towards a connected car, electrification and, further down the road, the autonomous vehicle. All of this points to an uncertain future. Even the volume of vehicles is in doubt. Are we nearing the end of personal car ownership, as dominant car consuming alnnert, as we head towards a car-sharing era?
It is not just the OEMs that are facing tough decisions, but all Tier 1 and component suppliers, including switch manufacturers. The industry has for a long time been based on reducing prices by increasing volumes. Now in the new automotive world where volumes, won't steadily grow, manufacturers need to decide how to develop a sustainable pricing Policy.
The USPs for carmakers are changing too. Software is becoming important and, as they strive to differentiate their products by this means and give extra revenue as they are becoming service providers as well, it will eat up more of the value in the vehicle, putting further pressure on pricing for existing functions. There is little option but to increase the price of the finished vehicle, so the danger we face is that this will lead to the commoditization of hardware as prices are driven down.
The car itself is changing. The drive towards a connected, electric and autonomous car will transform its electronic architecture and require new standards. But even in this new breed of vehicles switches will have an important role to play. Technological innovations such as smart seating, stop/start functions and paddle shifts will still require switches, but they will be smart switches. Other functions will require more sensing where switch has a very good value for money as sensor. As a company, that is where our focus is for the automotive sector.
However, reliability is still vital. The disruption and innovation have heralded a new standard for the automotive sector, ISO 26262, to develop best practice for functional safety. This is not a manufacturer or supplier standard, but it will ensure that carmakers follow defined steps when developing systems that in the future will be a combination of software and hardware. It means that dedicated hardware such as switches are sometime needed or specific characteristics such as high reliability, self-failure detection or redundancy are required. The other implication is that there is an advantage for existing solutions that have already been developed and proven.
There are also influences from outside the vehicle world driving change in the industry. For all these automotive switches there are higher demands and expectations. These have been set by the consumer, who expects the same experience and functionality that they can get from their consumer electronics devices such a smartphones and tablets. This expectation is defining the human machine interface (HMI) of the future for cars.
The big advantage of a touch screen HMI is that it can become a personal living space that can incorporate augmented reality for added safety. That is why displays are grabbing more share in the HMI arena, replacing dials and some mechanical keys, but there are drawbacks to the full capacitive units and so a blend of hard and soft keys may be the optimum solution.
With the move towards autonomous driving there will be a need to integrate more control functions within a vehicle. When travelling in an autonomous car, the driver will have more time for entertainment or even to work. This diverse set of requirements means that it will not be possible to develop a one-size-fits-all solution; every carmaker will come up with its own strategy, leaving the market even more fragmented in terms of product.
There are other applications emerging that will also require different solutions. The growth of electronic latches with the electrification of handles as well as the interaction between key fobs and smartphones are examples. Even as sensor technologies are employed, cost and concerns over reliability will ensure the switch remains relevant for non-HMI applications. For instance, a switch system plays a vital role to constantly monitor whether a door latch is in an open or locked position. This same level of functional safety addressed by switches is also evident to detect when a driver or front seat passenger have their electric seat recliner engaged or not to ensure there are no unexpected sudden moves while a car is being driven.
In short, standard solutions are less in demand. Increasingly, sub-miniatures switches are requested and they need to deliver functional and accurate performance. For instance, detect switches provide a precise current when car occupants apply a specific degree or range of force. In many instances, the switches are customized to meet the requirements of the needs of the car maker.
Clearly, there is disruption, evolution and disappearance ahead in the automotive market. Disruption exists because the path forward and the magnitude of change are still very uncertain, but there is one thing we can be sure of – millions of cars still need to be manufactured. There will be a replacement of the keypad and basic switches by displays, yet each OEM will tread its own path and require a different solution, leaving the component suppliers with a fragmented market. The evolution will come from hybrid solutions that need to combine different characteristics with the components more adapted to suit each individual function. There will also be the opportunity for cross-market solutions from the consumer electronics sector. As for disappearance, it is the end of mass-market components within the automotive sector.
For C&K this changing market dynamic has led the company to adopt a four-pronged approach with solution-focused engineering products. The first is around the growing demand for haptic and acoustic products where the company continues to develop the right component to deliver the required touch, feel and sound, which may often require a hybrid solution. The second focus is on reliability, where C&K develops products that are focused on functional safety and ISO 26262. The third opportunity or focus comes from sealing. There will always be a demand for products that can operate in harsh environments on the outside of vehicles. Finally, there is integration, where we provide customer support during design by managing the characteristics of the switches.
At C&K, we are ready to play a key role in steering the future of automotive innovation, whatever direction the market sector takes.

Eric Grange
Global Segment Manager
Automotive