Defining our Success in 2019 and Beyond
Defining our Success in 2019 and Beyond
By John Boucher | January 15, 2019
It's hard to believe that we're already headed into another new year, but if 2018 is any indication, then 2019 is going to be a big year at C&K.
That's why I wanted to take a moment to speak to the entire C&K family – our tremendous employees, customers, partners and friends – and share something we've been formalizing that I fully believe will fuel our collective long-term success.
As a result, we are excited to share new set of core values that will define our path moving forward.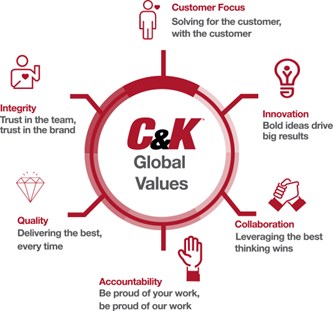 These values will serve as the basis of our global corporate culture and will shape how we approach our business; these will be incorporated into everything we do to achieve our long-range plan focused on global growth, operational and organizational effectiveness, and collaboration.
Customer Focus
Solving for the customer, with the customer
Integrity
Trust in the team, trust in the brand
Quality
Delivering the best, every time
Innovation
Bold ideas drive big results
Collaboration
Leveraging the best thinking wins
Accountability
Be Proud of Your Work, Be Proud of Our Work


These values are not superficial pleasantries. C&K has made a commitment to live and breathe them in each interaction, transaction, conversation and decision made, every single day. We view these as a call to action to drive our company, customers and partners to greater success than anyone ever imagined.
I am proud to lead the team at C&K, and I look forward to an exciting new year with all of you who inspire me day in and out.

John Boucher, CEO