C&K's Laboratories Underpin Product Quality and Reliability
C&K's Laboratories Underpin Product Quality and Reliability
By News Author | January 28, 2019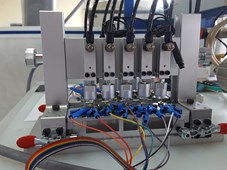 For over 90 years now C&K has been producing high-quality electromechanical switches and, over this time, our products have been trusted for use in some of the world's most demanding applications. Whether an automotive, medical, aerospace/military, industrial or telecom solution, it's highly likely that C&K switches were the first choice of the designers. This market-leading position would not be sustainable without the relentless focus on quality and unwavering dedication to innovation enabled by our global network of product performance laboratories.
Located alongside our manufacturing centres in Newton, MA, USA; Dole, France; and Hulzhou, China our three laboratories play a critical role throughout the lifecycle of our products.
During initial research and development, our scientists are pushing at the boundaries of materials research, and using advanced analytical tools such as X-ray photoelectron spectroscopy (XPS) surface analysis to define treatment processes to extend the performance and shelf-life of our switches.
Highly accurate product prototyping is accelerated using some of the very latest virtual concepts such as 3D high-resolution metrology to enable rapid design optimization.
Non-destructive testing of newly developed products is supported by powerful tools such as computerized X-ray microtomography (µCT).
C&K's customers also benefit from the work carried out in these laboratories, in problematic areas such as corrosion, for example, which can creep in when our devices are integrated into end products. Our high-stress environmental testing techniques, including salt spray tests, SO2 and four gases generate valuable insights into our products' behavior, which we are only too happy to share.
All of these tests are only relevant to our markets if they are underwritten by the relevant standards authorities, and C&K works hard to keep abreast of developments in this area.
Our product performance laboratories are certified by UL to participate in its client data test program for UL 61058 standards and to the requirements of ISO 17025. These facilities also have the right to test our products to a wide range of MIL, EIA and IEC standards, which are critical requirements in all of our markets.
In aerospace, a key market for C&K, our facilities in Newton and Dole have achieved the globally recognized AS9100 standard, adapted from ISO 9001 to meet the specific needs of the industry.
Our customers in the automotive industry recognize IATF 16949:2016 certification as a key indicator of quality, and C&K recently joined an elite group of players in this sector by announcing the certification of our Dole, Newton and Huizhou facilities.
Retaining these certifications requires an organization-wide culture of continuous improvement, backed by significant investments in robust QMS processes and systems. This is driven from the very top of C&K, and our commitment is recognized by key customers such as Airbus Defence and Space, who have awarded us Master Supplier Status for three consecutive years.
Our global network of laboratories plays a central role in our quality control processes, constantly monitoring product performance levels and ensuring compliance with the relevant standards. They are instrumental in raising the performance bar of our switch product families through material science, analysis, testing and continual manufacturing improvement, and we are justifiably proud of them.