Growth in Wearables Hinges on Tiny Switches
Growth in Wearables Hinges on Tiny Switches

By Craig Thomson | December 18, 2019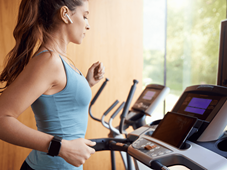 Advances in semiconductor capability, communication speed and bandwidth and cloud storage are driving explosive growth in the wearable devices market. Wearables monitor, store and analyze real-time data. That is revolutionizing personal health and fitness, safety and security and recreation.
Examples of wearable devices include smart watches, smart glasses and smart clothing; action and body cameras; activity trackers; medical pendants; and biosensors. Recording a compound annual growth rate of more than 11%, the wearables market is projected to swell to $63 billion by 2025 from $25 billion this year.
Durable, high-functioning electro-mechanical switches for Human Machine Interface, or HMI, are essential components for wearables. While switches frequently are an afterthought in the design process, they can dramatically affect both the performance and customers' perception of a given device. The tactile experience must be right. A designer's choice in switches can make the difference  in a product's perceived quality and value.
In matching switch functionality with the product's form factor, designers must choose carefully. Switches for wearables must be small but capable of withstanding extreme conditions, including human sweat, moisture from the elements, dirt and more. They must be sealed against contamination and long-lasting. To function within a given product design, switches must be adaptable to an array of requirements.
Tactile switches commonly used in wearables must be sensitive while still resistant to contamination, a tricky combination. Switches must interface effectively with their users in a way that ensures high performance while maintaining durability and long life. Finding switches that can meet such a wide range of demands is frequently the difference between a product that meets consumer expectations and one that falters in the marketplace.
Smart Watches
Miniature and ultra-miniature switches for smart watches fit every application with life cycles ranging from 150K to 1MM. The KMTO, nano-miniature top actuated has one of the smallest footprints measuring just over six square millimeters and includes an integrated actuator. With that form factor, it's a perfect candidate for inclusion in smart watches and also other micro-sized consumer electronics like mobile phones, hearing aids and e-readers. Equally impressive is the KXT series which is a reliable and long-lasting switch built to meet the specific needs of engineers creating the next generation of devices. C&K rounds out options for designers with its PTS series of microminiature SMT top and side actuated switches, providing maximum design flexibility.
Activity Trackers
C&K offers miniature and ultra-miniature high-performance tact switches for all the latest fitness and activity trackers. Those switches include the KMT0, KMR, KXT,  PTS820 and NANO-T. In addition, C&K switches for fitness and activity trackers include the KMS, measuring 4.2mm by 3.55mm and featuring a 100K life cycle; and the PTS530, 4.5mm by 4.5mm, 300K life cycle.
Cameras
A deep selection of tact and slide switches is available for wearable cameras, such as recreational action and police body cams. The selection includes tact switches such as KMR, PTS820, KSC, PTS645, PTS525, and KSS as well as slide switches such as AYZ and PCM.  The KMR series features a micro-miniature footprint, top actuation, and offers high tactile feel and high durability, making it ideal for the rigors of camera use. Known for its performance and reliability, the AYZ series miniature slide switch is a highly regarded low-profile option available in single- or double-pole or double- or triple-throw models.
Smart/VR Glasses
Switches for smart glasses perform a myriad of tasks, including power, navigation keys and function buttons. The line includes KMT0, KMR, KXT, KXT3, PTS810, PTS820, NANO-T and PTS540 switches.
Micro tactile switch switches are available in SMT mounting for high-speed, automatic assembly. They can be vertically or side actuated and have sealing options to IP67. Further, they can be customized for actuation force, sound and feel.
C&K's rich legacy in consumer applications, such as wearables, along with its vast portfolio and resources ensure the highest standards in function and performance.