C&K Launches ZMV Mini Size Snap Acting Switches
C&K Launches ZMV Mini Size Snap Acting Switches
C&K Launches ZMV Mini Size Snap Acting Switches
By News Author | June 03, 2021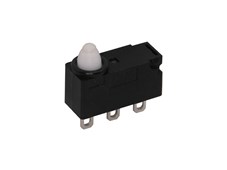 C&K Launches ZMV Mini Snap Acting Switches
The ZMV Series mini snap acting switches can be actuated from different angle into the pin plunger version.
WALTHAM, Mass – May 27, 2021 – C&K, a leading manufacturer of high-quality electromechanical switches, has developed a low to high power snap acting switch designed for automotive handles, HVAC, IoT and the medical market. The ZMV snap acting switch combines a space-saving design with high reliability all within a compact design that is only 13.3mm x 7 mm x 5.3 mm.
The ZMV Series features a long stroke and robust actuation force that allows for applications to ensure reliability for when the switch is actuated.  This solid force actuation has a click audible sound which provides feedback for actuating, and can also be helpful for troubleshooting if there is an issue with the switch.  The ZMV is available in either standalone or wire harness solution with IP67 protection.  Flexibility with the switch options allows for a wider range of uses which applies across industries.
Offering higher reliability compared to traditional Snap Acting Switches, the ZMV series is available with either a silver or gold contact.  The gold contact allows for use in ultra low current applications, and in turn has longer lasting reliability.  Alongside reliability, the ZMV allows for actuation to occur from different angles onto the pin plunger version.  This allows for less components to be used in your end product, while not sacrificing usability and practicality.
"The compact ZMV series Snap Acting Switch allows for the designer to have flexibility to design the switch into any application without any limitation," said Jeffrey Phan, Global Product Manager at C&K. "We are proud to extend the ZM switch family to enable customers to reduce the size and height of their end products without compromising performance and reliability."
For more information on C&K's new ZMV series snap-acting switches, including details and specifications, click below: 
About C&K
At C&K, we do more than just make the world's best switches. We are trusted advisors, helping global brands and innovators improve customer satisfaction by building better products. C&K offers more than 55,000 standard products, 8.5 million switch combinations, as well as custom designed solutions, to help solve the hardest engineering challenges faced in the automotive, industrial, IoT, wearables, medical, telecom, consumer products, aerospace and POS terminal industries. For over 90 years, leading designers, manufacturers and distributors of electronics have turned to C&K when they require mission-critical reliability in an electromechanical switch, high-rel connector or custom assembly. The reason they keep coming back is because C&K's innovative design, cutting-edge production process, and strict quality assurance standards produce the world's best switches and components.  For more information, please visit www.ckswitches.com or connect with us on LinkedIn and Twitter.