C&K Launches Single Pole Double Throw Tactile Switch for High Reliability Applications
C&K Launches Single Pole Double Throw Tactile Switch
C&K Launches Single Pole Double Throw Tactile Switch for High Reliability Applications
By News Author | May 20, 2021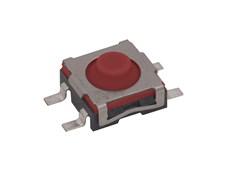 C&K Launches Single Pole Double Throw Tactile Switch for high reliability applications
The TLSM Series single pole double throw tactile switches offer space-savings and high reliability…
WALTHAM, Mass – May 20, 2021 – C&K, a leading manufacturer of high-quality electromechanical switches, has developed a single pole double throw (SPDT) tactile switch designed for elevator buttons, gaming controllers and the industrial market. The TLSM Series SPDT tact switch combines a space-saving design with high reliability all within a compact design that is only 6.0mm x 6.1mm.
At only 6.0 mm x 6.1 mm x 3.45 mm, the TLSM Series features a soft actuator that raises a mere 3.45 mm above the PCB for valuable PCB saving and customer system space saving. Supporting 3 million cycles, the low profile switches are commonly used in elevator buttons, gaming controllers, industrial applications, accessories and more.
Offering higher reliability compared to traditional miniature tact switches, the top actuated TLSM Series switch is available with momentary action.  The SMT tactile switches provide full integration into reflow soldering standard processes, reducing time and costs for OEMs.
"The compact top mount endurance SMT TLSM Series increases reliability, and allows for two signals which is ideal for a multitude of applications," said Daisy Liu, Global Product Manager at C&K. "We are proud to introduce the TLSM switch family to enable customers to reduce the size and height of their end products without compromising performance and reliability."
For more information on C&K's new TLSM series tactile switches, including details and specifications, click below: 
About C&K
At C&K, we do more than just make the world's best switches. We are trusted advisors, helping global brands and innovators improve customer satisfaction by building better products. C&K offers more than 55,000 standard products, 8.5 million switch combinations, as well as custom designed solutions, to help solve the hardest engineering challenges faced in the automotive, industrial, IoT, wearables, medical, telecom, consumer products, aerospace and POS terminal industries. For over 90 years, leading designers, manufacturers and distributors of electronics have turned to C&K when they require mission-critical reliability in an electromechanical switch, high-rel connector or custom assembly. The reason they keep coming back is because C&K's innovative design, cutting-edge production process, and strict quality assurance standards produce the world's best switches and components.  For more information, please visit www.ckswitches.com or connect with us on LinkedIn and Twitter.