C&K Launches Navigation Switch for Automotive Seat Applications
C&K Launches Navigation Switch for Automotive Seat Applications
C&K Launches Navigation Switch for Automotive Seat Applications
By News Author | June 22, 2021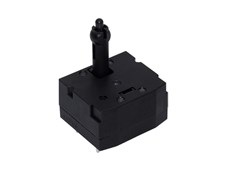 C&K Launches SAMXD Navigation Switch
The SAMXD Series navigation switches are the perfect solution for your automotive seat needs.
WALTHAM, Mass – June 22nd, 2021 – C&K, a leading manufacturer of high-quality electromechanical switches, has developed a new navigation switch, the SAMXD (Seat Adjustment Module Dustproof).  Ideal for applications in automotive applications, the SAMXD has a multiple options for actuator position and shape.  The SAMXD navigation switch are directly driving the electric motors, removing the need for relays, allowing for space and cost savings.
Offering expertise gained from the previously released SAM Series, the dust protection and end stop addition strengthens the SAMXD product offering compared to competitors. 
The SAMXD offers two actuation forces (5.3N & 6N) and two actuator positions, left and middle.  In addition to multiple actuator positions, there are also two actuator shapes, square and round.
"The SAMXD series Navigation Switch allows for the designer to have flexibility to design the switch into automotive seats," said Jerome Smolinski, Global Product Manager at C&K. "We are proud to extend and improve the SAM switch family with feedback from current customers."
For more information on C&K's new SAMXD Series navigation switch, including details and specifications, click below: 
About C&K
At C&K, we do more than just make the world's best switches. We are trusted advisors, helping global brands and innovators improve customer satisfaction by building better products. C&K offers more than 55,000 standard products, 8.5 million switch combinations, as well as custom designed solutions, to help solve the hardest engineering challenges faced in the automotive, industrial, IoT, wearables, medical, telecom, consumer products, aerospace and POS terminal industries. For over 90 years, leading designers, manufacturers and distributors of electronics have turned to C&K when they require mission-critical reliability in an electromechanical switch, high-rel connector or custom assembly. The reason they keep coming back is because C&K's innovative design, cutting-edge production process, and strict quality assurance standards produce the world's best switches and components.  For more information, please visit www.ckswitches.com or connect with us on LinkedIn and Twitter.