C&K Honors Master Electronics with 2020 Distributor of the Year Award
Master Electronics - Distributor of the Year
Master Electronics - Distributor of the Year
By News Author | June 28, 2021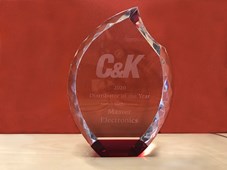 Waltham MA- June 28th, 2021 – C&K America announced last week that they have awarded Master Electronics it's 2020 Distributor of the Year in a first ever virtual ceremony due to the COVID pandemic.  Each year, C&K recognizes our top performing distribution partner in appreciation of their commitment and value to our shared partnership.  The distinguished award is in recognition of Master's growth in top line revenue, served customers, and active C&K SKU count for the calendar year 2020.  An in-person celebration will take place during the Electronic Distribution Show later this year in Las Vegas in August.
The award was presented by Gary Mountford, Vice President of C&K America to Riad Nizam, President, Master Electronics.  "Master Electronics continues to play a critical role in helping C&K's customers solve the dynamic challenges of the Electronic Component Industry.  For more than 40 years Master has been a committed partner to C&K, utilizing entrepreneurial solutions and a collaborative approach to problems, building lasting customer satisfaction and trust."
Ian Gee, C&K's Regional Director of Channel Sales for the America's added, "Despite the many challenges that C&K faced in 2020 because of the COVID Pandemic, Master Electronics was able to grow each of these critical metrics for C&K and we are proud to recognize their accomplishments with this award."
Riad Nizam followed with "Over the past 40 years, C&K and Master Electronics have set the gold standard for what partnership means and I look forward to the next 40 years. I am pleased to accept this award and to bring it home to Team Master!"
About C&K
At C&K, we do more than just make the world's best switches. We are trusted advisors, helping global brands and innovators improve customer satisfaction by building better products. C&K offers more than 55,000 standard products, 8.5 million switch combinations, as well as custom designed solutions, to help solve the hardest engineering challenges faced in the automotive, industrial, IoT, wearables, medical, telecom, consumer products, aerospace and POS terminal industries. For over 90 years, leading designers, manufacturers and distributors of electronics have turned to C&K when they require mission-critical reliability in an electromechanical switch, high-rel connector or custom assembly. The reason they keep coming back is because C&K's innovative design, cutting-edge production process, and strict quality assurance standards produce the world's best switches and components.  For more information, please visit www.ckswitches.com or connect with us on LinkedIn and Twitter.
ABOUT MASTER ELECTRONICS
Master Electronics is a leading global authorized distributor of electronic components. For more than half a century, our family-owned company has remained focused on strong relationships, responsive service and added value. This is how Master Electronics has grown to serve hundreds of thousands of customers in partnership with hundreds of world-class suppliers.