C&K's D-Sub Backshell and Haloring - The first of its kind to be certified by the ESA and specifically designed for the Space market
C&K Launches Industry's First ESA-Certified D-Sub Backshell and Haloring
C&K Launches Industry's First ESA-Certified D-Sub Backshell and Haloring
By News Author | July 16, 2020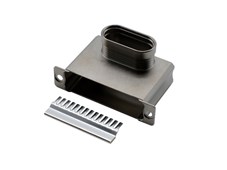 Specifically designed for the Space market, the D-sub backshells and halorings are certified by the European Space Agency to ensure high-quality and reliability...

C&K, the leading manufacturer of high reliability electromechanical switches and connectors, is now blazing a trail into the Space market by being the first manufacturer to seek out and obtain certification from the European Space Agency (ESA) for a Backshell with Haloring, answering the call for a stamp of approval previously unrealized by similar products.
The D-Sub Lightweight Backshell is a key element in protecting connectors and cables in space applications with tight weight and space constraints. C&K now offers new variants to answer customer needs in applications where shielding is required.
The D-Sub Backshell and Haloring are available in two quality grades: the ESA/ESCC certified and the Engineering model. Both models are mainly focused on the Space market, with applications in launchers, satellites and spacecraft, with a main use in harnesses.
With 11 outlet shapes among 6 different sizes of shells, and a choice of gold or nickel finish, C&K is confident that there is a solution for any consumer's needs. This variety comes with ultra-long reliability, compact size, and easier tolerance management.
Global Product Manager Rémi Antoine says the idea came to him after noticing that half of the harnesses in the Space sector use backshells equipped with haloring but no supplier has ever suggested a solution with the approval of a space agency. "By offering certified products," Antoine says, "we guarantee customers a level of quality corresponding to their expectations."
For more information on C&K's new D-Sub Backshell and Haloring Series including details and specifications, please visit: https://www.ckswitches.com/products/high-rel/product-details/DSub/D*M%20Backshell%20and%20Haloring/