C&K's all-new ZMW series, a sealed subminiature snap-acting switch, is compact and perfectly designed for automotive and industrial applications.
C&K Develops Sealed Subminiature Snap-acting Switch
C&K Develops Sealed Subminiature Snap-acting Switch
By News Author | August 27, 2020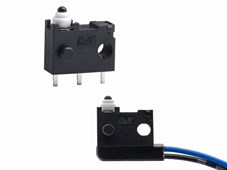 Designed for automotive applications, the sealed ZMW Series snap-acting switch features a long stroke for highly reliable actuation…
C&K, the leading manufacturer of high reliability electromechanical switches, has launched a silent, sealed, subminiature, snap-acting switch series that offers precise and actuation in automotive applications. The compact ZMW Series snap-acting switch combines a long stroke with more than 2mm of over travel for reliable actuation. The ZMW Series is used in rugged environments including automotive, industrial, white good and other applications.
The ZMW has a twin sliding contact design that prevents contaminants from entering the switch, which may affect the performance and operating life. The sliding contact design ensure long term reliability and operation up to 500,000 cycles.
Available in pin plunger & lever, and terminals & wire harness versions, the ZMW Series offers design flexibility and makes integration into customer designs simply and easy. Full IP67 protection when potted with wire version and IP67 for standalone switch except the metal terminal part.
"C&K continues to expand our snap switch product offering to meet customer requests. The ZMW Series is the latest addition to the snap switch family. The switch features silent actuation, long travel and long term operation, all in a miniature package," said Jeffrey Phan, Global Product Manager at C&K.
The ZMW Series is commonly designed into vehicle door and latch detection applications, industrial pumps, oil & gas pumps, and home appliances like stoves, HVAC and washing machines.
The ZMW Series has an operating temperature of -40°C to 85°C for signal current application.
For more information on C&K's new ZMW Series Switch, including details and specifications, please visit: https://www.ckswitches.com/products/switches/product-details/Snap/ZMW/