KSC OF Overload Friendly Tactile Switch
C&K Introduces KSC Overload Friendly, a Pioneering Leap in High Overload Value Tactile Switch Solutions
C&K Introduces KSC Overload Friendly, a Pioneering Leap in High Overload Value Tactile Switch Solutions
By News Author | January 14, 2020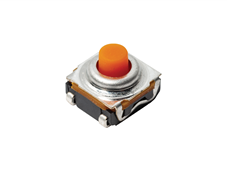 C&K, the leading manufacturer of high reliability electromechanical switches, today announced the launch of its new KSC Overload Friendly (KSC OF) switch, a pioneering leap in high overload value tactile switch solutions for all possible high end customizable applications across different market segments. This includes, but is not limited, to the industrial, consumer, medical, and automotive markets.
The KSC OF is a variant on C&K's existing well-known KSC series. It features a high overload value of 200N (one time) and an innovative design with a raised cage, where customers can use the top of that cage as a built-in mechanical stop for its interface.
In addition, the new KSC OF provides a compact size at 6.2 x 6.2 x 5.1 mm with a J bend termination, a soft silicone actuator, and a long life time of 300,000 cycles at 20N actuation force. All of these improved features combined make the KSC OF a great choice for an enhanced customer experience.
A key challenge for engineers has been to incorporate a proper mechanical stop in their design integration process. The KSC OF switch answers that requirement by providing a high overload value to overcome built-up tolerance and space issues. It was developed precisely to solve this unmet customer need.
"At C&K, we want to keep customers at the center of our product development process, and this has helped us successfully build and launch switches that have authentic and innovative design," said Régis Clément, C&K's Global Product Manager. "KSC OF is a fantastic new addition to the C&K portfolio to help and ease the design cycle by offering an integrated mechanical stop on the switch itself, avoiding tolerance chains and simplifying the design."
For more information on C&K's new KSC OF switch, including details and specifications, please visit: https://www.ckswitches.com/products/switches/product-details/Tactile/KSC%20OF/.