C&K Introduces its New ILS Illuminated Tact Switch, Bringing Customers a Greater Choice of Design Options
C&K Introduces its New ILS Illuminated Tact Switch, Bringing Customers a Greater Choice of Design Options
By News Author | December 17, 2019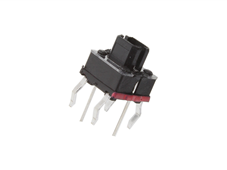 C&K, the leading manufacturer of high reliability electromechanical switches, today announced the availability of its new ILS illuminated tact switch. ILS is adding to C&K's current range of illuminated tact switches, which traditionally features models ideal for high-end applications like consumer electronics, medical devices and audio/visual applications.
The ILS offers vertical thru-hole models with long-life cycles for products that must endure harsh conditions. With the new ILS, designers gain a lower price-point and more options to create innovative applications such as home care devices, ID scanners, servers, video broadcast systems and more.
The new ILS comes in a compact size, giving designers the option for additional product functionality and the ability to meet the newest requirements for the increasingly smaller printed circuit boards (PCBs) seen across industrial applications.
Other features include:
Three different height sizes giving engineers more freedom for design integration to ensure their products function properly in any given environment.
Integrated LEDs to reduce the cost and difficulties associated with designing the illumination path.
180 and 250 gf, offering the most common versions used in the market.
A lifecycle up to 100K that lowers costly repairs.
"C&K has always offered the highest quality illuminated tact switches for high-end applications. But the addition of our new ILS series gives our customers the freedom and flexibility to extend their offerings into new areas and applications," said Jérôme Smolinski, Senior Product Manager at C&K. "ILS is a fantastic new addition to our C&K family of switches and we're excited to bring our reputation for high-reliability and customization to segments that haven't been a traditional focus for us before."
For more information on C&K's new ILS illuminated tact switch series, including details and specifications, please visit: https://www.ckswitches.com/products/switches/product-details/Tactile/ILS/.