C&K Launches New 16mm Panel Mount LED Sealed Pushbutton Switch for Off-road Transportation, Industrial Control Panels, Machinery and Equipment & Production Control Indicators
C&K Launches New 16mm Panel Mount LED Sealed Pushbutton Switch for Off-road Transportation, Industrial Control Panels, Machinery and Equipment & Production Control Indicators
By News Author | January 21, 2020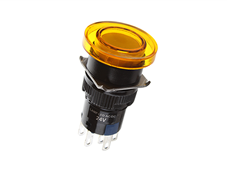 C&K, the leading manufacturer of high reliability electromechanical switches, today announced the launch of its new PLP16 16mm panel mount LED sealed pushbutton switch, the latest product in the LED pushbutton family of C&K's product offering.
The new PLP16 switch is equipped to withstand ruggedized applications and works seamlessly in challenging industrial settings, making it a perfect choice for use in the newest industrial control panels, off-road transportation, production control indicators, and industrial machinery equipment designs.
The PLP16 Series is available with or without LED illumination, in 7 actuator styles, and 7 actuator colors, in both momentary and latching actuation, allowing customers to easily customize the look of their equipment. The PLP16 is also available as pilot light in the same package.
In addition, there are two IP ratings to choose from for the switches and pilot lights – IP65 or IP40 – depending on the desired level of seal protection. While the IP40 provides a strong protection of the switch from dust and solid foreign objects, IP65 option provides even higher level of protection against both dust and water immersion, enabling the product to work robustly in extreme harsh environment.
C&K's new PLP16 Series is designed for long-lasting performance. It has an operating temperature range of -25°C to +55°C, a mechanical operating life of 1,000,000 cycles and a LED lamp life that is up to 50,000 hours of usage. The switches are capable of switching up to 3A at 250VAC for 100,000 cycles in the momentary package.
"At C&K, we take engineering challenges and turn them into viable solutions. We strive to provide engineers with the largest variety possible of options to meet the needs of their unique product designs with durable products," said Edward Mork, Global Product Manager at C&K. "The new PLP16 Series will give designers additional choices to further enhance their customers' product experience by applying a customizable illuminated pushbutton to their application requirements."
For more information on C&K's new PLP16 Series Panel Mount LED Sealed Pushbutton switch, including details and specifications, please visit: https://www.ckswitches.com/products/switches/product-details/Pushbutton/PLP16/.