KSC TE Tireless Endurance Tact Switch
C&K Designs First Miniature Tact Switch Rated to 10 Million Cycles
C&K Designs First Miniature Tact Switch Rated to 10 Million Cycles
By News Author | February 03, 2020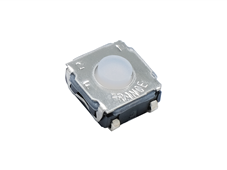 C&K, the leading manufacturer of high reliability electromechanical switches, has launched a new tact switch with a rating of 10 million cycles. The KSC Tireless Endurance (KSC TE) is a revolutionary addition to C&K's tactile product portfolio that helps ease the design cycle by offering a long-standing lifetime for its size and force range. The superior tact switch is ideal for demanding applications in the industrial, elevator, and gaming industries.
"The Tireless Endurance name says it all," said Regis Clement, Global Product Manager at C&K, "We are the first to offer this solution in the market. This will have a major global impact within the industry."
Combining a soft actuator and a revised internal structure enables the KSC TE to provide 10 million cycles. Most existing solutions only offer maximum actuations of 5 million cycles at 1.6N. KSC TE has doubled that.
With ultra-long reliability, there is less need for costly maintenance or replacement. Its compact size of 6.2 x 6.2 x 3.5 mm gives designers more room to add additional functionality to their units or to reduce their PCB size. The soft actuator allows for easier tolerance management with possible pre-load, and at an IP67 rating it offers strong protection against dust and water ingress.
For more information on C&K's new KSC TE switch, including details and specifications, please visit: https://www.ckswitches.com/products/switches/product-details/Tactile/KSC%20TE/.