C&K Debuts THB Miniature Thumbstick Switch for High End Gaming Joysticks, Drones, and Industrial Controllers
C&K Debuts THB Miniature Thumbstick Switch for High End Gaming Joysticks, Drones, and Industrial Controllers
By News Author | February 11, 2020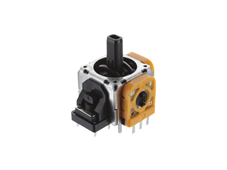 C&K, the leading manufacturer of high reliability electromechanical switches, today announced the launch of its new THB miniature thumbstick switch. THB expands C&K's burgeoning Navigation Switch product line featuring a versatile, high-quality dual axis lever with integrated center select thumbstick that meets the reliability requirements demanded by premium controller products including high end drones, gaming peripherals, and industrial controllers.
Tailored to the demands set forth by high end gaming peripheral manufacturers and commercial drone operators, THB combines a small package with premium performance for significant value to its users. It has an incredible high life expectancy that is capable of up to 2,000,000 operations, making it a higher quality, more robust product than many commodity variants that exist today.
A higher activation force is a feature often requested by controller designers as it provides a more tactile ergonomic experience for end customers. The smaller form factor facilitates easier fitting into smaller designs to accommodate a wider range of customers that can benefit from those improved ergonomics.
C&K's Global Product Manager Tanios BouRamia stated, "The THB represents a continuing commitment to our high quality product development, expanding C&K's broad product portfolio and reinforcing its reputation as the global leader in switch solutions."
For more information on C&K's new THB miniature thumbstick switch, including details and specifications, please visit: https://www.ckswitches.com/products/switches/product-details/Navigation/THB/.