C&K Debuts TF3 Miniature Snap Switch Series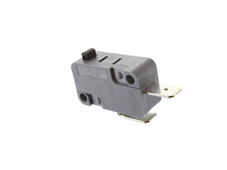 C&K, the leading manufacturer of high reliability electromechanical switches, today announced the launch of the TF3 miniature snap-acting switch series. Now offering a three-millimeter disconnection gap for switching high currents, 25A maximum ampacity and best-in-class safety capabilities, the TF3 is the ultimate solution for high-power amperage industrial environments and for applications such as elevators, stair lifts and power tools.
Usage of industrial switches can vary from daily use to once every few years, and many industrial switches aren't replaced often, which means they must work when needed regardless of time between uses. The TF3 series is designed for such long-lasting performance and resiliency in these challenging industrial settings with its broad range of operating forces and actuator styles built to withstand corrosion, extreme temperatures and more.
"Industrial equipment can go several years between upgrades and replacements, and switches need to match that longevity," said Jeffrey Phan, Global Product Manager at C&K. "The TF3 series is the latest demonstration of C&K's commitment to delivering high-performance durability and effectiveness that industrial designers have come to rely on."
For more information on C&K's new TF3 switch series, including details and specifications, please visit: www.ckswitches.com/products/switches/product-details/Snap/TF3/