C&K Introduces Quiet, Long-travel Tactile Switch for Specific Soft Haptics
C&K Introduces Quiet, Long-travel Tactile Switch for Specific Soft Haptics
By News Author | December 03, 2019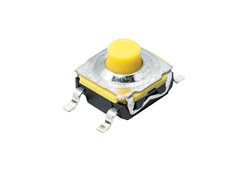 C&K, the leading manufacturer of high reliability electromechanical switches, announces the launch of its KSC SLT tactile switch, the latest product in its KSC family of switches.
The new KSC SLT is specifically designed for the requirements of long-travel tact, and provides a quiet, low-volume activation sound, thus avoiding the need for workarounds to dampen the click sound. This haptic response is suitable for automotive, consumer and instrumentation applications.
The KSC SLT is provided in a compact 6.2 x 6.2 x 5.0mm package, making it well suited for applications where PCB space is tight, which saves on space and cost for the customer. The KSC SLT also offers long travel that meets typical design requirements, making it easier and quicker to integrate with various applications.
The new switch is rated at an electrical life of 200,000 cycles. This high-level of reliability means risk of expensive re-work or failures in the field is reduced. The KSC SLT also provides IP40 ingress protection in a specific design, making it less likely to be contaminated by pollutants, which reduces the cost of scrap or re-work.
"The sound that switches make is an important consideration for customers, and needs to be just right to impress potential customers," says Jerome Smolinski, global product manager at C&K. "The KSC SLT meets designers' needs with its quiet operation, as well as its long-travel, long-life and cost-saving design features."
The KSC SLT is a surface-mount (SMT) device that can be soldered with standard production equipment, without the need for extra manual work or specific PCB plating, therefore keeping overall costs down. It is RoHS compliant and has an operating temperature range of -40°C to +95°C.
For more information on C&K's new KSC SLT, including details and specifications, please visit: www.ckswitches.cn/products/switches/product-details/Tactile/KSC%20SLT/.