C&K Receives International Automotive Task Force 16949 Certification for All Facilities
C&K Receives International Automotive Task Force 16949 Certification for All Facilities
By News Author | May 29, 2018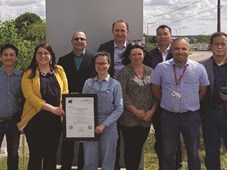 C&K, one of the world's most trusted brands of high-quality electromechanical switches, today announced that all of its global facilities have received International Automotive Task Force (IATF) 16949 certification. C&K's Dole (France) location was the first to achieve certification, with the company's Huizhou (China) and Newton (Mass., U.S.) locations following closely thereafter.
IATF 16949 emphasizes the development of a process-oriented quality management system – one that provides for continual improvement, defect prevention and reduction of variation and waste in the automotive industry supply chain. With today's news, C&K shows its commitment to this system and the benefits it can provide its partners and customers.
"The realities of today's automotive industry are forcing automakers to be more efficient in how they produce parts and vehicles; however, at the same time, they have to make sure nothing is lost in terms of quality and performance," said Jerome Brochot, global quality director, C&K. "C&K is one of the first – and only – electromechanical switch companies in the world to have committed itself to this new standard. We are committed to providing our partners with the reliable, cost-effective and high-performing solutions they need to power the next generation of vehicles."
Based off of ISO/TS 16949, one of the automotive industry's most widely used international standards for quality management, IATF 16949 recently replaced ISO/TS 16949 as the new, global industry standard.