C&K Launches Medical Switch Product Line
C&K Launches Medical Switch Product Line
By News Author | May 16, 2018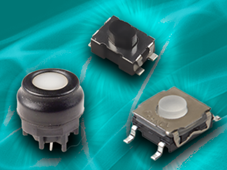 C&K, one of the world's most trusted brands of high-quality electromechanical switches, today announced its new Medical Switch Product Line at the EDS Summit in Las Vegas. The new medical switch series from C&K helps the medical community adhere to today's strict industry standards.
Autoclave* sterilization is one of the harshest environments a surgical instrument will encounter.  Autoclave* cycling sterilizes the device after exposure to bacteria, viruses, fungi and spores. Some medical devices are one time use, quarantined and disposed. Others are quarantined, sterilized and repackaged for reuse after sterilization. Similar to dental tool sterilization and reuse requirements, only these devices have active components that need to withstand autoclave* cycling. An autoclave* cycle reaches 135° C, under pressure, for up to 15 minutes.  
"Medical device engineers are creating the applications that people entrust to keep them safe – from diagnostic equipment and active minimally invasive surgical tools to eHealth products –the switches in these devices need to work when activated, every time." said Roger Bohannan, Medical Segment Leader, C&K. "C&K's new Medical Switch Product Line is ideal for designers creating the quality, superior performing devices that the medical community relies upon to work properly in the most challenging situations."
Testing demands of medical products vary – and C&K's new medical switch family offers a variety of products that can be customized and tailored to meet the changing requirements of the industry:
The KSC series is autoclave safe and well-suited for medical devices that must withstand the shuffle of chaotic medical environments, such as that of an emergency room. These ultra-long-life switches can last up to five million cycles and their silicon actuators facilitate switch integration, providing possible pre-travel and post-travel depending on force and actuator hardness.
KMR microminiature SMT tactile switches are compact tact switches designed for a variety of harsh-environment applications. These top-actuated switches come with Gullwing termination and are available in four actuation forces.
The K12 series dual action switch offers customization options to meet most application requirements. Its configuration can be combined to reduce the number of actions required for use, making it easier for medical professionals to complete complicated procedures with fewer movements.
For more information on how C&K can help designers of medical devices deliver products that meet challenges, please visit https://www.ckswitches.com/markets/medical/.