C&K's Dole, France Location Receives IATF 16949 Certification
C&K's Dole, France Location Receives IATF 16949 Certification
By News Author | February 06, 2018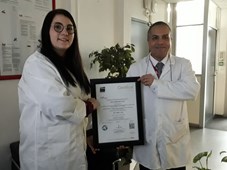 C&K, one of the world's most trusted brands of high-quality electromechanical switches, today announced that its Dole, France location has achieved IATF 16949 certification from The Association Française de Normalisation (AFNOR). Developed by the International Automotive Task Force (IATF), IATF 16949 emphasizes the development of a process-oriented quality management system that provides for continual improvement, defect prevention and reduction of variation and waste in the automotive industry supply chain. 
Based off of ISO/TS 16949, one of the automotive industry's most widely used international standards for quality management, IATF 16949 replaces ISO/TS 16949 as the new, global industry standard. 
The company's Dole manufacturing operation is the first site to receive IATF 16949 certification, with plans underway to become compliant at C&K's Huizhou (China) and Newton (Mass., USA) locations before the 14 September deadline. Beginning the company-wide certification process reflects C&K's commitment to providing top quality products and processes for its automotive industry customers and partners, globally. 
"The IATF 16949 standard is one of the most demanding in terms of quality systems, and C&K is proud to have been awarded this certification for our Dole location," said Jerome Brochot, global quality director, C&K. "At a time when the global automotive industry is facing important challenges, this certification will enable us to continue delivering the high-performance, high-reliability and cost-effective solutions we've been committed to for nearly a century."   
About C&K
Founded in 1928, C&K is one of the world's most trusted brands of high-quality electromechanical switches. The company's unmatched custom design capabilities are recognized globally by design engineers who demand reliable switch performance. C&K offers more than 55,000 standard products and 8.5 million switch combinations to companies that design, manufacture and distribute electronics products. Used in automotive, industrial, IoT, wearables, medical, telecom, consumer products, aerospace, and POS terminals, C&K products include tactile, pushbutton, snap-acting, toggle, rocker, detect, DIP, keyswitch, navigation, rotary, slide, switchlock, thumbwheel, smart card readers, high-rel connectors and custom assemblies. C&K is headquartered in Newton, Mass. with global design centers in Newton Mass., Dole France, and Huizhou China. For more information, please visit www.ckswitches.com or connect with us on LinkedIn and Twitter.