C&K Launches New PT Series Sealed Power Toggle Switch
C&K Launches New PT Series Sealed Power Toggle Switch
By News Author | May 01, 2018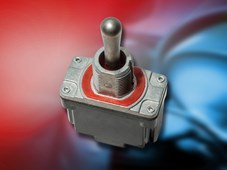 C&K, one of the world's most trusted brands of high-quality electromechanical switches, today announced the launch of its new PT Series Sealed Power Toggle Switch. The new PT series from C&K is well-suited to meet the stringent performance requirements for vehicles used in off-road, construction, and agriculture – as well as those for materials handling, industrial and lift gate controls and equipment.
PT switches are manufactured to be reliable and rugged, making them perfect for harsh outdoor conditions where dirt, dust and wetness are constant factors. Switches incorporated into vehicles and equipment for these industries need to work consistently, no matter the conditions – a factor recognized by C&K when it designed its latest switch.
"Not only is our new PT Series Sealed Power Toggle Switch perfect for even the toughest environment, it has been designed to be smaller than competing solutions, giving needed space back to designers," said Jeanne Simeone, Global Product Manager, C&K. "We've designed this switch to meet the conditions for dual ratings against water intrusion, ensuring it will stand up to powerful water jets found in heavy-duty cleaning as well as complete immersion and provide reliable performance in wet, outdoor construction sites."
C&K's PT Series Sealed Power Toggle Switch is built with a patented single piece injection molded seal for extra protection, is designed with a high-strength, heat-resistant housing and has superior oil and fuel resistance. PT switches have a versatile IP66/IP68 seal rating, are IEC/UL 61058-1 certified – and are rated at 15 amps for maintained functions and 10 amps for momentary functions, making it easy for engineers to incorporate the switch into their designs.
C&K's PT Series Sealed Power Toggle Switch is available now. For more information on why the PT Series is perfect for your innovative product design, review its details and specifications here: https://www.ckswitches.com/media/2301/pt.pdf.