C&K Launches Autoclave Safe Medical Switch Product Line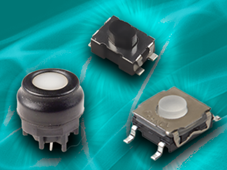 C&K, one of the world's most trusted brands of high-quality electromechanical switches, today announced its new Medical Switch Product Line specializing in autoclave safe* products at the EDS Summit in Las Vegas. The new medical switch series from C&K helps the medical community adhere to today's strict industry sterilization standards protecting patients from the risks associated with reusable tools. Sterilization ensures safe reuse, eliminating contamination resulting from fluid and contagion ingress.
Autoclave sterilization is one of the harshest environments a surgical instrument will encounter.  Autoclave cycling sterilizes the device after exposure to bacteria, viruses, fungi and spores. Some medical devices are one time use, quarantined and disposed. Others are quarantined, sterilized and repackaged for reuse after sterilization. Similar to dental tool sterilization and reuse requirements, only these devices have active components that need to withstand autoclave cycling. An autoclave cycle reaches 135° C, under pressure, for up to 15 minutes. C&K's Medical Switch Product Line features IP67 sealed switches that are biocompatibility tested, perfect for designers creating mission critical medical devices that require a sterilization process step. 
"Medical device engineers are creating the applications that people entrust to keep them safe – from diagnostic equipment and active minimally invasive surgical tools to eHealth products –the switches in these devices need to work when activated, every time." said Roger Bohannan, Medical Segment Leader, C&K. "C&K's new Medical Switch Product Line is ideal for designers creating the quality, superior performing devices that the medical community relies upon to work properly in the most challenging situations."
Testing demands of medical products vary – and C&K's new medical switch family offers a variety of sterilization safe products that can be customized and tailored to meet the changing requirements of the industry:
For more information on how C&K can help designers of medical devices deliver products that meet sterilization challenges, please visit https://www.ckswitches.com/markets/medical/.  
* Switches used in autoclave safe applications require testing and validation for customer specific requirements