New Optical Encoder ENC Series for High-Shock and Vibration Environments with cost competitiveness solution
New Optical Encoder ENC Series for High-Shock and Vibration Environments with cost competitiveness solution
By News Author | December 04, 2017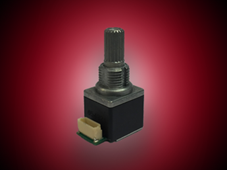 C&K, one of the world's most trusted brands of high-quality electromechanical switches, today announced the availability of its optical encoder ENC series to provide automotive, industrial, medical and instrumentation engineers with a durable product and customizable switch solution. The new ENC switches utilize C&K's opto-coupler technology to deliver consistent output signals that are compatible with modern digital devices at a lower cost than similar solutions on the market.
"Products used in the automotive, industrial and medical industries must provide high reliability and consistent performance at all times to meet the stringent environment," said C&K Edward Mork, C&K Global Product Manager "C&K designed the ENC series optical encoders specifically for engineers and designers creating durable products capable of performing at a superior level for a sustained period of time. Most importantly, we're able to customize almost every facet of this ENC series to make sure our customers are able to deliver an extraordinary customer experience."
C&K's optical encoders were built specifically for mission-critical products with limited space that perform well in high-shock and vibration environments. Typical applications include HMI, process flow control devices, oscilloscopes or patient monitoring devices. The ENC series' simple internal construction gives the optical encoders a minimum of 300k cycle rotations.
"The haptics or torque-force on ENC encoders can be customized appropriately for your application needs. The product is available with an integrated pushbutton 'select' actuator and is intended for panel mounting." Standard ENC series optical encoders are offered with 16 detent positions, rotation at 22.5°+/- 2, 265gf-cm of torque, and a choice of cable lengths and terminations.