C&K Recognized by Zhongkai Talent Program for Science and Technology Contributions to China's Innovation Economy
C&K Recognized by Zhongkai Talent Program for Science and Technology Contributions to China's Innovation Economy
By News Author | November 08, 2017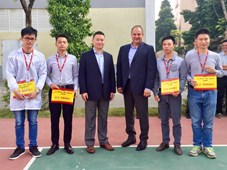 C&K, one of the world's most trusted brands of high-quality electromechanical switches, today announced that its Huizhou, China location was honored by the Zhongkai Talent Program for its successful employee training and talent initiatives. As part of the program, four C&K engineers were recognized for their outstanding work performance, and the company was awarded 200,000 Chinese Yuan at the Zhongkai Hi-Tech Zone Talent, Science & Technology Conference in September. The award was presented to the engineers by C&K CEO John Boucher and Asia GM William Xu during a company-wide town hall meeting.
"We are thrilled to not only be recognized for our Huizhou location's excellence, but also for the individual contributions of our leading team of engineers," said Boucher. "China's commitment to support local talent and encourage momentum in the science and technology fields is vital to future growth, and at C&K, we are proud to help accelerate those initiatives."
As part of a government effort to attract more talented entrepreneurs to The Huizhou Zhongkai Hi-tech Industrial Development Zone (HZZK) in Huizhou, Guangdong province, China has implemented the Zhongkai Talent Program to increase the funding available to innovative businesses and start-ups in the area. The Chinese government has so far awarded 16.6 million Chinese Yuan to companies, teams and members who have contributed to leading industries, such as flat panel displays, LEDs, mobile, new energy and cloud computing applications, as well as smart equipment manufacturing.
About C&K
Founded in 1928, C&K is one of the world's most trusted brands of high-quality electromechanical switches. The company's unmatched custom design capabilities are recognized globally by design engineers who demand reliable switch performance. C&K offers more than 55,000 standard products and 8.5 million switch combinations to companies that design, manufacture and distribute electronics products. Used in automotive, industrial, IoT, wearables, medical, telecom, consumer products, aerospace, and POS terminals, C&K products include tactile, pushbutton, snap-acting, toggle, rocker, detect, DIP, keyswitch, navigation, rotary, slide, switchlock, thumbwheel, smart card readers, high-rel connectors and custom assemblies. C&K is headquartered in Newton, Mass. with global design centers in Newton Mass., Dole France, and Huizhou China. For more information, please visit www.ckswitches.com or connect with us on LinkedIn and Twitter.