C&K PNP Sealed Pushbutton Switches
C&K Introduces New PNP Series Sealed Pushbutton Switches
C&K Introduces New PNP Series Sealed Pushbutton Switches
By News Author | April 20, 2017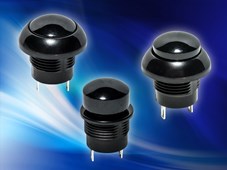 C&K, one of the world's most trusted brands of high-quality electromechanical switches, today announced the launch of its PNP series sealed pushbutton switches. Designers of transportation, industrial controls, test equipment and automation applications will now have access to a high-quality, extremely durable switch series for their control grips, joysticks, off-road panels, hydraulics, power control panels, heavy equipment, industrial instruments, lifts, conveyor controls and other applications.
C&K's PNP series sealed pushbutton switches are IP68 sealed to endure harsh environments and power wash down. They are available in multiple housing styles and feature an extended operating life of 1,000,000 cycles. The PNP series combines the same rugged switch performance and 5A power capabilities of C&K's NP series switches with the affordability of its AP series – and features an all new thermoplastic housing design.
Additional key features of the PNP series include:
Longer solder leads for ease of wire installation
Larger solder holes accommodating up to two 22 gauge wires
A resistive load of up to 5A
RoHS compliance
Electrical functions: SPST, SPDT
Available value-add capabilities (wire leads, connectors, graphics)
C&K's new PNP series sealed pushbutton switches are available now. For more information, please see the full product data sheet, available here.