C&K Micro-D Lightweight Backshell
C&K Announces Micro-D Lightweight Backshell for Use in Space, Avionics and Military Engineering
C&K Announces Micro-D Lightweight Backshell for Use in Space, Avionics and Military Engineering
By News Author | April 12, 2017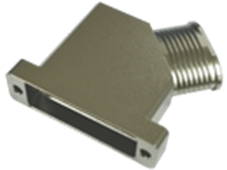 C&K, one of the world's most trusted brands of high reliability connectors, today announced its new Micro-D Lightweight Backshell product. Micro-D Lightweight Backshells are a key element in protecting Micro-D connectors and cables in space applications that have tight weight and space constraints, such as satellite harnesses, payload equipment and launchers. 
C&K's new Micro-D Lightweight Backshells are designed to be easily integrated in environments that require designers to optimize weight and space. These products are the only ones on the market to be certified by the ESA (European Space Agency) through the ESCC (European Space Components Coordination), meaning that they can be used in any style of space engineering project.
"With the launch of our new product, C&K is the only supplier to offer a full range of flight and engineering models for Micro-D Lightweight Backshells", said Rémi Antoine, product manager, Hi-Rel space and avionics at C&K. "At C&K, we pride ourselves on giving our designers everything they need to succeed – from reliable, high-quality connectors they can depend on, to effective, pre-certified solutions that can be immediately incorporated into a design." 
C&K's products are designed to accept Micro-D connector sizes 9, 15, 21, 25, 31, 37 and 51 points – and come available in nickel and gold plated versions, with 4 types of outlets (Top Circular, Top Elliptical, 45o Circular and 45o Elliptical), for flight and engineering models. 
C&K's new Micro-D Lightweight Backshells are compatible with 3401/032 accessories and 3401/029 or 3401/077 Micro-D connectors. For more information, please see our datasheet for the flight model and the engineering model.