C&K LAUNCHES MDMA AND MDMB 51 WAYS, EXTENDING ITS MDMA AND MDMB RANGES
C&K LAUNCHES MDMA AND MDMB 51 WAYS, EXTENDING ITS MDMA AND MDMB RANGES
By News Author | March 01, 2017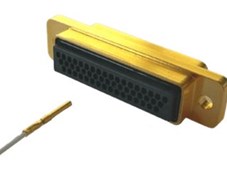 C&K, one of the world's most trusted brands of high-quality electromechanical switches, launched its new MDMA and MDMB 51 ways connectors. MDMA and MDMB 51 ways are Micro-D connectors with removable crimp contacts. They have a compact format and are designed to accept the most popular cable gauges (AWG24 to AWG28). Being certified by the European Space Agency and compatible with MIL-83513 makes them ideal to use for harnesses in satellites and harsh environments. MDMA and MDMB 51 ways have a unique design compatible with standard Micro-D connectors. 
"Prior to this launch, there were no MDMA or MDMB size 51 available at C&K. We found a dedicated solution to integrate a new retention clip within the insulator for each cavity that was compatible with the 3 rows design. We even created a new extraction tool to remove contacts. With our complementary range of MDMA / MDMB connectors with removable crimp contacts, we are the only supplier to offer the largest range of Micro-D connectors for flight or engineering models," said Rémi Antoine, product manager, Hi-Rel space and avionics, C&K. 
The MDMA and MDMB 51 ways connectors accept one wire insulated AWG24, AWG26 and AWG 28 (external diameter at 0.97mm max), and one uninsulated solid wire AWG25. It has a twist pin contact technology. The MDMA 51 ways is ESA certified while the MDMB 51 ways follows the FR048 specification. The MDMA and MDMB 51 ways connectors are designed for use in operating temperatures spanning -55°C to +125°C. They are rated for 150Vrms working voltage and 1.5A to 3.5A maximum current (depending on the cable gauge). They have a contact resistance of 5 mΩ and a maximum contact retention force of 22.25 N. Accessories for the series include: a crimping tool, an extraction tool, a locator, and a test retention tool.