C&K's Door Interlock Switch Provides Detection & Circuit Interruption in Gaming Applications
C&K's Door Interlock Switch Provides Detection & Circuit Interruption in Gaming Applications
By News Author | October 01, 2013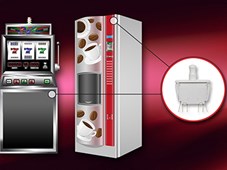 DS Series switch provides extended electrical life of 100,000 cycles
Designed to provide design flexibility by offering latching or momentary actions along with a variety of integration options, C&K's DS Series door interlock switch can be used for detection and circuit interruption functions.  Ideal for gaming and vending machines, the rugged snap-mount interlock pushbutton switch has a push / pull feature to break power when the machine door is open for trouble-shooting, maintenance or repair.  With a long operating life of 50k at 10 amp and 100k at 0.1 amp, the DS Series switches enable a multitude of design options due to their unique construction that combines quick assembly and prolonged performance.
The DS Series interlock pushbutton switches feature rugged copper alloy, silver-plated common terminals and F5-rated, gold-plated over silver alloy contacts for robust performance. Their dielectric strength is measured at 1500V (50-60Hz at sea level) and insulated to 100m ohms (minimum) with initial contact resistance rated at 30 milliohms.
The reliable single- or double-pole double-throw DS Series switches are RoHS-compliant and made of halogen-free material.
"The DS Series switches provide functionality ideal for gaming and vending machines," said Vinny Acampora, product manager at C&K Components. "The snap-mount interlock pushbutton switch design enables frequent manual circuit interruptions while maintaining a long operating lifespan."
Attached File | DS catalog pages - PDF (107.44 Kb)