C&K Develops PCM Ultra-miniature, Low-Profile Slide Switch
C&K Develops PCM Ultra-miniature, Low-Profile Slide Switch
By News Author | October 21, 2013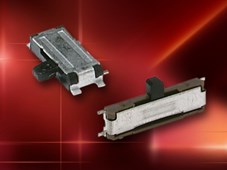 PCM Series switches available in SPDT and SP3T versions
C&K Components, a leading international supplier of tact switches, toggle and rocker switches, and smart card interconnect devices, has expanded its family of low-profile, cost-effective miniature slide switches.   Designed for applications with significant board space and height restrictions, the PCM Series is available in SPDT and SP3T models.  
The PCM Series has been extensively designed into computer & computer peripheral products, networking equipment, telecommunication products and test & measurement equipment.
"The PCM Series switch is a high-quality, ultra-miniature solution that helps engineers address a number of design concerns with its low-profile and space saving design," said Vinny Acampora, Product Manager at C&K Components.
The RoHS-compliant PCM Series has a mechanical operating life of 10K cycles, and features rugged stainless steel housing, copper alloy silver clad brush, and copper alloy, silver-plated terminals. With a contact rating of 0.3A @ 6 VDC, a contact resistance of 70m ohms maximum, an insulation resistance of 100M ohms minimum @ 500V, and a dielectric strength of 500 VAC minimum, the PCM Series miniature slide switch has an operating temperature range of -20°C to 85°C.
Both the PCM12 and PCM13 are packaged in tape and reel, which is ideal for pick and place assembly.
View additional specifications
Attached File | PCM catalog pages - PDF (231.93 Kb)