C&K Delivers the Industry's Most Compact Switch that Meets the EN-14604 Test Button Requirement
C&K Delivers the Industry's Most Compact Switch that Meets the EN-14604 Test Button Requirement
By News Author | September 16, 2013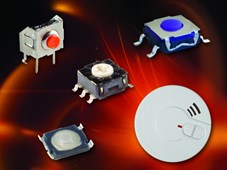 C&K expands range of switches for smoke detector applications, meet new European EN-14604 regulation requirements
C&K Components has expanded its line of switch products for smoke detectors in support of the new European EN-14604 standard.  According to the new regulation, all smoke detectors sold in the European Union must include the CE marking and comply with EN-14604 standards, which require all smoke detectors to be equipped with a test button. 
The KMT0 Series tactile switch from C&K is the most compact switch on the market that meets the requirements for the EN-14604 test button. Moreover, the IP68-rated switch's ability to withstand gas corrosion tests makes it the ideal solution for harsh environment applications typical with many smoke detector installations.  The KMT0 Series features a low-profile of 0.65mm with integrated actuator and an operating life of up to one million cycles.  An ultra-low current version is also available, which extends battery lifetime.
In addition, C&K's KSA/KSC Series sealed tactile switches feature customizable actuation and button height.  The top- or side-actuated KSA/KSC Series switches are surface mountable and deliver a specific actuator with a groove for button clipping and compatibility.  The IP67-sealed KSA/KSC Series switches have a unique design that provides simple integration with an operating life up to one million cycles. The combination of IP67 sealing and gold plating offer a high resistance level against ingressions and corrosion agents which leads to reliability and service life required by fire detection applications.
Another switch product that meets the requirements for smoke/fire detectors and carbon monoxide detectors is the KSE Series of cost-effective, low-profile tactile switches.  These momentary-action tactile switches combine rugged IP67-rated sealing, reliability and a long operating life with an optimized, economical design.
Ideal for identifying the location of smoke detectors on the premises, the miniature RTE Series of low-profile rotary DIP switches are available in surface mount and through-hole models.  The RTE Series DIP switches feature SPDT, SP3T and SP4T rotary functions, as well as rotary binary-decimal and hexa-decimal coding.  With a robust stainless steel cover, the RTE Series has an operating life of up to 20,000 actuations.
"C&K Components uses innovative technologies to develop switches that answer current and future application needs.  The expansion of our product offering makes C&K a one-stop-switch-shop for manufacturers of devices such as smoke detectors," said Eric Grange, Product Manager at C&K Components.
Product Details Page | KMT0 | KSA | RTE
Contact Tech Support | KMT0 | KSA | RTE