C&K Develops Latching Pushbutton Switch for Long Travel Applications
C&K Develops Latching Pushbutton Switch for Long Travel Applications
By News Author | November 18, 2013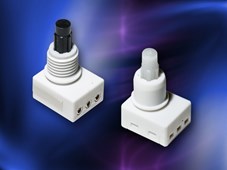 Economical PS Series switches available in SPDT versions
C&K Components has developed a latching pushbutton switch with a full 4.5 mm of travel.  The economical PS Series switches feature latching contacts and are designed to work in conjunction with standard male commercial pin and socket connectors, 1.57 mm sq (0.062" sq) pins with 4.05 mm (0.16") spacing.
The single pole double throw (SPDT) PS Series pushbutton switch changes electrical state on the down stroke of the plunger and delivers "on-off" or "on-on" functionality.
The PS Series switches have been extensively designed into auto interior lighting, computer, appliance and flashlight applications.
"The PS Series latching pushbutton switches deliver a high-quality solution for price-sensitive applications," said Vinny Acampora, Product Manager at C&K Components.
The RoHS-compliant PS Series switch has a mechanical operating life of 20K cycles, and features a contact rating of 1A @ 14VDC, a contact resistance of 100M ohms (maximum), an insulation resistance of 100M ohms (minimum), and a dielectric strength of 500VAC (minimum). The switch's operating temperature range is from -20°C to 70°C.
Attached File | PS page - PDF (201.27 Kb)