TDA Series Features Bifurcated Contact for Increased Electrical Reliability and Consistent Performance
TDA Series Features Bifurcated Contact for Increased Electrical Reliability and Consistent Performance
By News Author | March 25, 2013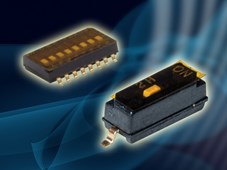 Providing design flexibility in hand-held devices, C&K expands ultra-miniature DIP switch series to include 1-position version
C&K Components, a global manufacturer of tactile, toggle, rocker and pushbutton switches, and smart card interconnect devices, has expanded its surface-mount DIP switch series to include an ultra-miniature 1-position version for hand-held and portable electronic devices. Featuring a bifurcated contact for increased electrical reliability and consistent performance, the half-pitch TDA Series DIP switches are process-sealed for surface-mount soldering and washable-processing.
With more than 10 DIP switch product families, C&K offers the largest, most versatile DIP switch product line available. With the introduction of the 1-position TDA Series DIP switch and features such as side actuators, low profiles, single-in line package, coded rotary and half-pitch options, we provide design engineers even more design options and flexibility.
The RoHS-compliant TDA Series is available in two termination styles, S-termination (Gullwing) and J-termination (Bend). The single pole, single throw (SPST) DIP switch is available in multiple positions, including 1, 2, 4, 6, 8 and 10 positions. The TDA Series DIP switch features a contact rating of 24 V DC, 25 mA (switching state) and 50 V DC, 100 mA (steady state). The TDA Series DIP switch provides a maximum contact resistance of 100m?. Operating temperature ranges from -40ºC to +85ºC. The TDA Series switches are available in tape and reel or tube packaging.
The TDA Series DIP switch is ideal for hand-held electronics devices, portable computer devices and instrumentations and controls.