C&K's New Ultra Low-Profile SMT Top Actuated Switch Features Unique Symbol Line Identification System
C&K's New Ultra Low-Profile SMT Top Actuated Switch Features Unique Symbol Line Identification System
By News Author | April 08, 2013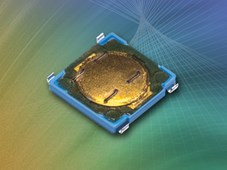 Miniature PTS530 Series switch saves valuable PCB space, delivers operating life of 1,000,000 cycles
C&K Components, a leading international supplier of tactile, toggle, rocker and pushbutton switches, and smart card interconnect devices, has developed the new PTS530 Series ultra low-profile top actuated SMT switch that is ideal for consumer electronic applications. Utilizing C&K's unique symbol line identification system, design engineers can quickly and easily identify actuation force ratings, particularly valuable for designs that incorporate multiple switches. The marking system defines the model number and actuation force on the switch itself, which eliminates the need for designers to rely on confusing schematics.
The PTS530 Series SMT switch is only 4.5mm x 4.5mm with a 0.55mm thickness (0.65 mm for high force versions), saving valuable PCB space. The small size combined with its extensive lifespan of up to 1,000,000 operations makes the PTS530 Series satisfies multiple needs that other miniature switches cannot.
The momentary action, top actuated SMT switch features a gullwing or J-type terminal and can be soldered via infrared reflow in accordance with the IEC61760-1 standard. The PTS530 Series switches are available in six different varieties, dependent on actuation force.
"Designed for use in rugged consumer devices, the PTS530 Series switch has a number of innovations that benefit engineers and technicians during design and assembly," said Jerome Smolinski, senior product manager for C&K Components. The ultra low-profile switches help reduce the size of end-user devices, making them more desirable in the market, and the long lifespan makes the PTS 530 Series switches an ideal option for a wide variety of consumer products.
The PTS530 Series SMT switch has a maximum voltage of 12VDC. The operating temperature range is -40°C to +85°C.
Attached File | PTS530 datasheets - PDF (275.41 Kb)