C&K Components' Solderless LED Mounting Process Delivers Rugged Illuminated SMT Tactile Switch for Sensitive Applications
C&K Components' Solderless LED Mounting Process Delivers Rugged Illuminated SMT Tactile Switch for Sensitive Applications
By News Author | March 18, 2013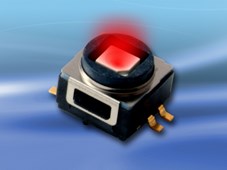 Customizable tact switches combine homogeneous backlighting with excellent tactile feel and clear audible haptic confirmation 
C&K Components, a leading global manufacturer of tactile, toggle, rocker and pushbutton switches, and smart card interconnect devices, has developed a new series of illuminated tact switches that combines consistent light output with excellent tactile feel and clear audible haptic confirmation.  The K8 Series illuminated tactile switch offers several unique features and design elements, including a constant illumination cone.  The LED is mounted on the actuator, which enables, in terms of actuation axis, a constant distance between the LED and the key top surface to provide a homogenous backlight.
The rugged K8 Series SPST switch integrates a unique chip LED mounting process that avoids any soldering during switch manufacturing to remove thermal stresses or moisture absorption.  The process allows the highest moisture sensitivity level (MSL) available and avoids potential failure during switch soldering.
Providing uniform backlighting in white, blue, pure green, orange, and super red color schemes, the K8 Series features an internal design that with combines soft and hard polymers to allow for customization of tactile response and acoustic in accordance with high perceived quality expectations.
The precise hole-less dome design provides a life expectancy of 300,000 cycles, making the K8 Series one of the most resilient illuminated tact switches available on the market. The top and direct LED mounting is made possible by C&K's unique chip LED process mounting that offers excellent LED cooling.
The IP40-rated K8 Series is RoHS-compliant and available in standard silver plating for servicing temperatures up to 85°C and a maximum power of 1.0 VA. Gold versions are also available for applications requiring temperature operation up to +125°C and a maximum power of 0.2 VA. Both versions maintain a maximum voltage of 32 VDC.
The unique design features and technology advancements make the K8 Series illuminated switch ideal for use in automotive, network equipment, telecommunication, medical and industrial control applications.
Attached File | K8 catalog pages - PDF (417.45 Kb)