Switching Automotive Technologies
Switching Automotive Technologies
Switching Automotive Technologies

By Jérôme Smolinski | March 09, 2021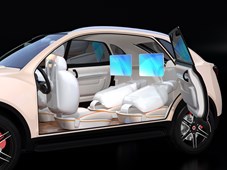 How switch products are reshaping automotive interiors as AI and automation change driving roles
The automotive market is experiencing a significant technological renaissance. From the introduction of artificial intelligence (AI) enabling driverless vehicles to the rise of electric vehicles (EVs) and hybrid electric vehicles (HEVs), the vehicle market is transforming before our eyes. As a result, automotive designers are facing many challenges to implement the latest technologies. Semi-autonomous and fully-autonomous vehicles continue to gain traction and acceptance in the industry. Safety is still a major hurdle for consumer confidence, but all market indicators lead down the road to full customer acceptance of autonomous vehicles. Driverless cars will lead to a complete overhaul of the vehicle cockpit. In fact, we have already seen major changes in cockpits that feature semi-autonomous capability. Functionality and comfort are primary factors driving the transformation of the automotive interior.
Amongst other elements within the cockpit, seats are becoming more than just the place you sit to drive, or not drive. The quest for light weight solutions in automotive interiors is affecting the seats, but not to the detriment of the functions added to it:
Position and Lumbar controls: traditional seat user settings and seat motors management including seat adjustment/movement, memory, lumbar control, heating, ventilation and massage
Comfort detection: ability to detect seat element position
Two major trends derived from AI and EV/HEV are driving an increase for detect/snap switches in the seats. In neighborhood electric vehicles (NEVs), the structure has changed to a full flat floor. It allows a re-arrangement of the interior, with configurations like business class seats for passengers. In these configurations, the systems need to know whether the seat is in its upright position, in relax or cargo mode in order to activate/deactivate security like airbags.
The second trend is being brought by the semi-autonomous driving. When in pilot mode, the seat will move to a working/relaxing position and return to a standard position when the manual mode is activated back. Here again, the systems need to know what is the configuration to trigger security systems.
To cover the seat functions, switch solutions have to offer
Power handling
Modularity
Long travel
Dust protection
Silent actuation
Self diagnosis
The automotive market is diversified and very regulated. Each manufacturer has its own tactile feeling, acoustics and integration.  It requires reliable and specific products to fit into its interfaces. The switches integrated in automotive applications are at the core of the automotive experience. Features such as tight product tolerances, haptic-on-demand, acoustical adaptation, environmental & process sealing and mechanical or electrical interface integration are the core values of automotive switching – and C&K is known for successfully delivering these to customers for more than 30 years.
In addition to Interior Controls, C&K also offers a full line of switches for the Interior Detection needs of automotive designers, covering everything from making sure all passengers are locked in tight, to providing extra protection from glare on a sunny day. 
The company manufactures a wide variety of Sun Visor Switches, Glove Box Switches, Seat Detection and Seat Belt Switches – all crafted with the reliability and long mechanical and electrical lifespans that customers have come to expect from C&K. From compact switches – needed when space is limited – to those with snap-acting mechanisms – necessary for drivers to understand when a feature is switched on or off – C&K can be counted on to deliver the perfect switch for any design vision. 
For more information, visit https://www.ckswitches.com/markets/automotive/