C&K's New Vietnam Production Facility Gains ISO9001:2015 Certification
C&K's New Vietnam Production Facility Gains ISO9001:2015 Certification

By Craig Thomson | September 10, 2020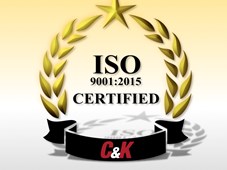 C&K's reputation is built on repeatable quality, and as a company we strive for complete customer satisfaction through continuous improvement and defect-free performance. That can only be achieved by meticulous focus and control of the things that matter: from design methodology, production process stability, and supplier quality, through to customer service and highly reliable logistics. Every part of C&K's success is underpinned by rigorous Quality Management.
In Q3 last year, C&K opened their latest production facility in Hung Yen Province, Vietnam, enabling us to improve our production lead-times and ultimately better serve our customers. As with all C&K production facilities, we wanted to give our customers the security of knowing that this facility was certified to the highest of standards, and this was achieved last month with C&K Hung Yen being certified to ISO9001:2015. "This is a huge achievement given that this facility has been fully operational for such a short space of time, and is a real testament to the hard work and high standards of our local team in Vietnam." said Lars Brickenkamp, C&K's CEO. 
ISO 9001:2015 standard is based on a number of quality management principles including a strong customer focus, the motivation and implication of top management, the process approach and continual improvement. These principles are explained in more detail in the link Quality Management Principles. Using ISO 9001:2015 helps ensure that customers get consistent, good quality products and services.
A copy of the Vietnam ISO9901:2015 certificate can be viewed here:
https://www.ckswitches.com/media/2933/iso-9001_ck-hungyen.pdf