C&K Wins Coveted Product of the Year from Electronic Products
C&K Wins Coveted Product of the Year from Electronic Products

By Craig Thomson | March 16, 2020
The annual Product of the Year awards from Electronic Products is now in its 44th year.
The industry leading magazine recognizes outstanding products that represent any of the following qualities: a significant advancement in a technology or its application, an exceptionally innovative design, a substantial achievement in price/performance, improvements in design performance, and a potential for new product designs/opportunities.
The editors of Electronic Products have chosen C&K's Interposer connector as the winner of the 2019 Interconnects Category.
The Interposer connector was selected by the editors of Electronic Products out of hundreds of interconnect product submissions. C&K is honored to receive this distinguished award from Electronic Products, and excited for the recognition of the innovation and customer advantages of C&K's Interposer connector system for Space applications," said C&K's CEO Lars Brickenkamp.
C&K's Interposer provides a solderless and customizable way of connecting two PCBs, specifically for high-reliability aerospace applications. A key feature is the spring-load contacts that enable easy, solderless installation and removal. This provides a direct connection, which eliminates the need for a wired solution, easing design and integration.
For greater design flexibility, C&K has created an easy-to-use "build an interposer" concept. This enables customers to mix and match options to create the interposer they need for their particular application.
"The Interposer board-to-board connector was chosen as the most outstanding interconnect because of its unique design that offers flexibility and customization," said Rémi Antoine, aerospace segment Global Product Manager at C&K. "For applications where failure is not an option, the new Interposer provides the highest levels of proven reliability, backed up by the appropriate certifications. It gives engineers the flexibility and simplicity they need for demanding space and satellite use cases."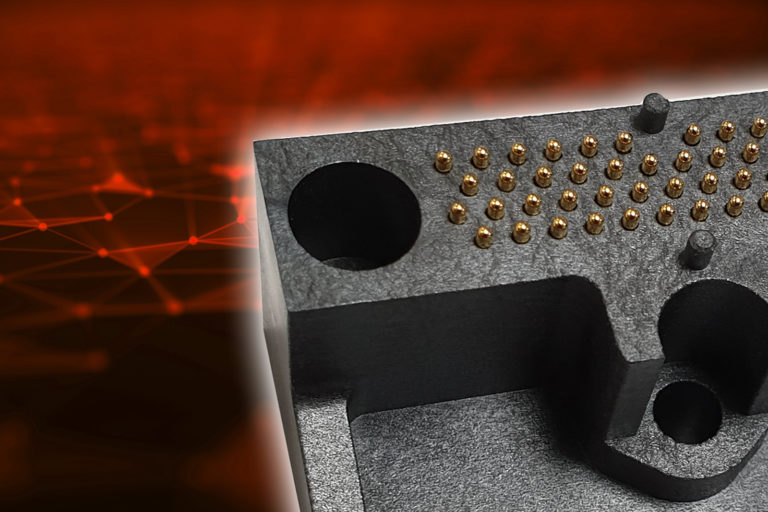 C&K's Award-winning Interposer Connector
The interconnect uses the company's Starclip contact technology. This means that the electrical contact function is decoupled from the pressure applied by the spring, which enables the connector to provide a stable, low-contact resistance, regardless of the force applied or distance moved, said C&K.
Key specifications include a minimum distance between the two contacts of 1.27 mm and a minimum height of 8 mm. Contact resistance is a low 25 mΩ, with a rated current of 1.5 A, and a working voltage of 100 or 200 Vrms.
The interconnects are non-outgassing, with gold-plated contacts, and offer an operating temperature range of –55°C to 125°C. They are compliant with CS FR051 C&K specification, according to ESA/ESCC code 3401. Applications include space equipment, satellite payloads, high-performance avionics/military, and engineering test equipment.
For more information, visit links below: