Happy New Year!
Happy New Year!
By William Xu | February 12, 2018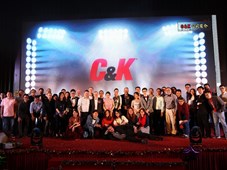 It's now officially the Year of the Dog! As we celebrate the new year here at C&K China, we thought it might be a good time to take a look back at the past year and how we've grown. 
Over the course of the past year, C&K rolled out numerous initiatives aimed at improving the way we all work together and drive success for our customers. We're dedicated to continuously improving our facilities and providing the best workplace possible for our most important asset – our employees. 
There's nothing more important in the business world than communication – and we committed ourselves to hold regular face-to-face meetings, helping us all communicate more effectively across departments. 
C&K also invested in the workplace this year. With improved living and working areas, better food options, new recreation facilities, updated air conditioning and improved Wi-Fi, we want to make sure C&K is somewhere our employees can be proud of coming to each day. 
In addition to a greater commitment to communication and an improved workplace, we increased the number of team-building and celebration activities sponsored by the company. Not only do these also help improve communication – they are a great way to take a break from work and get to know one another even better (and, to put it simply, they're fun!). 
Last year these included sponsored sports teams, trips, holiday celebrations and opportunities inside and outside the office to eat as a team. We're looking forward to doing even more in 2018!
In fact, we recently held our annual new year's dinner – with live entertainment and recognition of exceptional employees, it was not to be missed!
But it wasn't just fun and games this past year – we also invested in helping our employees gain the knowledge needed for the future of C&K. We successfully rolled out a comprehensive training and development system for employees as well as implemented both a graduate student training program and a management training program. These efforts will ensure that the future of C&K is bright. 
We were excited by how well-received these programs were – and are looking forward to expanding them all over time. 
So, happy new year to everyone at C&K – and may the Year of the Dog be a happy and successful one for you all.