C&K Extends High Reliability Connector Product Line with the Space Splice
C&K Announces Space Splice 4 Way High Reliability Connector
C&K Announces Space Splice 4 Way High Reliability Connector
By News Author | July 08, 2021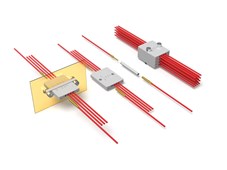 The Space Splice Series high reliability connectors are the perfect solution for your aerospace application.
C&K, a leading manufacturer of high-quality electromechanical switches, has developed a new high reliability stackable connector, the Space Splice 4 Ways.  Ideal for applications in aerospace systems, specifically satellites for applications like payload, harnesses, thermistor and multi layer insulators, where space and weight saving can be a critical factor. ESA certification is in progress and is a unique patented design.
Offering expertise gained from the previously released Space Splice 1 Way Series which connected two wires with standard solution, C&K has improved the design to be a stackable wire to wire connector with removable contacts. Alongside adding more contacts, the Space Splice 4 Ways has the ability to be stacked which can be beneficial in spaces where more than 4 ways are needed.
"The Space Splice 4 Ways series High Reliability Connector is a rugged and reliable connector developed specifically for aerospace applications," said Remi Antoine, Global Product Manager at C&K. "We are proud and excited to release more mission critical connectors for space and aviation applications."
The Space Splice 4 Ways will be launched soon - so keep your eyes out for the official launch of the Space Splice 4 Ways series.
For more information on C&K's new Space Splice 4 Way Series High Reliability Connector, including details and specifications, click below: 
About C&K
At C&K, we do more than just make the world's best switches. We are trusted advisors, helping global brands and innovators improve customer satisfaction by building better products. C&K offers more than 55,000 standard products, 8.5 million switch combinations, as well as custom designed solutions, to help solve the hardest engineering challenges faced in the automotive, industrial, IoT, wearables, medical, telecom, consumer products, aerospace and POS terminal industries. For over 90 years, leading designers, manufacturers and distributors of electronics have turned to C&K when they require mission-critical reliability in an electromechanical switch, high-rel connector or custom assembly. The reason they keep coming back is because C&K's innovative design, cutting-edge production process, and strict quality assurance standards produce the world's best switches and components.  For more information, please visit www.ckswitches.com or connect with us on LinkedIn and Twitter.