FP Sealed Ultra-Miniature Pushbutton
Sealed Ultra-Miniature Pushbutton Switches from C&K Deliver Long-lasting Performance
Sealed Ultra-Miniature Pushbutton Switches from C&K Deliver Long-lasting Performance
By News Author | March 12, 2020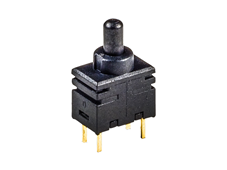 C&K, the leading manufacturer of high reliability electromechanical switches, has developed a sealed miniature pushbutton switch that offers an extended operating life to 50,000 cycles on FP11 & FP21 version. The FP Series is completely sealed via an o-ring between the actuator and bushing, preventing contamination. The sealing also enables automated soldering and cleaning, saving significant time and money during the assembly process.
Available in a wide range of options including vertical and right angle mount; SPST, SPDT, DPST and DPDT; and many cap colors, the versatile FP Series pushbutton switches are commonly used in data communication and telecommunication applications.
"The FP Series combines a robust design with miniaturization to ensure long-lasting and high-performance operation," said Edward Mork, Global Product Manager at C&K. "Offering PCB space savings, design flexibility and simplified assembly, the FP Series provides maximum functionality for networking and instrumentation equipment."
The right angle FP Series switches measure 5.6mm x 7mm, with a board height of only 4.5mm. The vertical version measures 4.5mm x 7mm, with a board height of 5.6mm. The FP Series switches have gold over nickel-plated contacts and are available with or without a white, black or red cap.
The FP Series switch has a maximum operating force of 4.9N and mechanical travel is 1.0mm. Operating temperature ranges from -20ºC to +80ºC.
The FP Series switches are available in tray packaging and bulk bag for the caps.
For more information on C&K's new FP Series Switch, including details and specifications, please visit: https://www.ckswitches.com/products/switches/product-details/Pushbutton/FP/