C&K's Interposer Provides Solderless, Customizable Board-to-Board Connections
C&K's Interposer Provides Solderless, Customizable Board-to-Board Connections
By News Author | September 10, 2019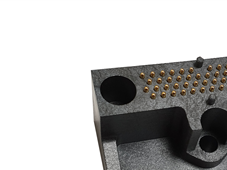 C&K, the leading manufacturer of high reliability electromechanical switches, announces the launch of Interposer, a solderless interconnect solution. Interposer offers a high-reliability, customizable way of connecting two PCBs, specifically designed for the aerospace industry.
Interposer features spring-load contacts, which enable easy, solderless installation and removal. This provides a direct connection, thus eliminating the need for a wired solution, and allows for effortless mating and unmating, making design and integration straightforward.
To maximize design flexibility, C&K has created an easy-to-use "build-an-Interposer" concept. This enables customers to mix and match options to create the Interposer they need for their particular application.
The new interconnect uses C&K's proven Starclip contact technology. This means that the electrical contact function is decoupled from the pressure applied by the spring, which therefore enables the connector to provide a stable, low-contact resistance, regardless of the force applied or distance moved.
Expected applications include space equipment, satellite payloads, high-performance avionics/military and engineering test equipment. The interconnects are non-outgassing, with gold-plated contacts, and have an operating temperature range of -55°C to +125°C. They are compliant with CS FR051 C&K specification, according to ESA/ESCC code 3401.
"For applications where failure is not an option, the new Interposer provides the highest levels of proven reliability, backed up by the appropriate certifications," says Rémi Antoine, aerospace segment manager at C&K. "It gives engineers the flexibility and simplicity they need for demanding space and satellite use cases."
The interconnects have a minimum distance between the two contacts of 1.27mm and a minimum height of 8mm. Contact resistance is a low 25mΩ, with a rated current of 1.5A and a working voltage of 100 or 200Vrms.