C&K Adds Low-Cost 10mm Rotary DIP Switches for Address Switching, Data Storage and Instrumentation Applications
C&K Adds Low-Cost 10mm Rotary DIP Switches for Address Switching, Data Storage and Instrumentation Applications
By News Author | September 03, 2019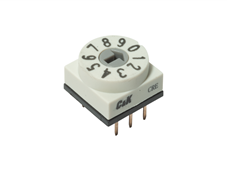 C&K, the leading manufacturer of high reliability electromechanical switches, announces the launch of its CRE series of low-cost 10mm coded rotary DIP switches.
The CRE series is available with a number of different actuators, including flush, extended and protrusion screw types, giving customers increased flexibility. The switches are ideal for a range of applications, including address switching, data storage devices, computers, their peripherals and instrumentation.
C&K's new series of switches are process sealed, so they withstand soldering, and are suitable for flux cleaning – making them well-suited for use in harsh environments. The CRE switches are engineered to be compact to save space, are available with 4, 6, 8, 10 or 16 positions and are available in through hole and surface mount versions.
"Our new CRE switches offer a wider selection than competitors' products, at a lower, more competitive price," says Jeffrey Phan, Global Product Manager, C&K. "Additionally, they are not manufactured in China, which reduces the risk of them being subject to high import tariffs."
The switches have a mechanical and electrical life of 10,000 cycles. They are RoHS compliant, with an operating temperature range of -20ºC to +85ºC and will be available to purchase beginning in August 2019.
For more information on C&K's new CRE series of low-cost 10mm coded rotary DIP switches, including details and specifications, please click here: www.ckswitches.com/products/switches/product-details/DIP/CRE/.