C&K Introduces Industry-First NanoT Series, the World's Smallest Tactile Switch
C&K Introduces Industry-First NanoT Series, the World's Smallest Tactile Switch
By News Author | November 14, 2019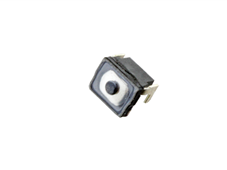 C&K, the leading manufacturer of high reliability electromechanical switches, today announced the launch of its new Nano Tactile (NanoT) switch series, the smallest solution on the market for sophisticated applications powered by Internet of Things (IoT) devices, including smart watches and medical wearables such as health monitoring trackers and hearing aids. 
Advancements in technology are leading to consumer demand for smaller-sized products that they can easily take with them wherever they go. This is especially the case for athletes who need to monitor their performance on the field with portable devices and for patients whose quality of life increases if the devices they wear for heart issues, hearing loss and other ailments take up as little space as possible. As products become smaller, the switches needed to power them on and off also need to become smaller.
The NanoT offers the smallest switch size available that gives designers of medical and wearable devices the freedom to create products as small as desired without forsaking quality and performance. A 2.2 x 1.70 x 1.65 mm package gives designers the room to add additional functionality to their units or to reduce their PCB size.
Other features include:
A PIP or SMT on edge mount configuration to protect wearable and medical products from tough conditions they are constantly exposed to – such as vibrations, accidental drops or exposure to liquid – while also improving the devices' lifecycle since they are used repeatedly, which causes natural wear and tear.
An integrated actuator that lowers cost and integration challenges with full interface buttons.
100, 160 & 240 gf – the most common versions used in the market
A lifecycle up to 300K that lowers costly repairs.
IP67 for sealed switch compatibility with PCB coatings.
"As wearable and medical devices continue to shrink, it's critical that the switches used to keep them functioning properly fit within emerging size requirements," said Jérôme Smolinski, Senior Product Manager at C&K. "NanoT is the smallest tactile switch ever released in the market. This is not only a technical leap that keeps pace with the demand for sophisticated products that require smaller components, but it also provides easier and smarter design capabilities for our customers."
For more information on C&K's new Nano Tactile switch series, including details and specifications, please visit: www.ckswitches.com/products/tactile/NanoT/.