C&K Debuts Low-Cost SMT Microminiature Side-Actuated Switches Ideal for Wearables
C&K Debuts Low-Cost SMT Microminiature Side-Actuated Switches Ideal for Wearables
By News Author | November 19, 2019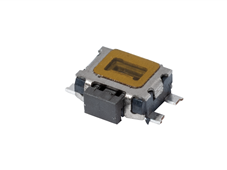 C&K, a leading manufacturer of high reliability electromechanical switches, announced the launch of its PTS841 microminiature side-actuated switch, providing a cost-effective, compact solution for handheld and wearable devices. This completes C&K's PTS family of side-actuated switches, which are available in a wide range of sizes and options. They are ideal for applications where space is tight, including wearables, IoT, mobile devices, consumer electronics, control panels and remote controls.
The new PTS841 switch is provided in space-efficient packaging measuring 3.6 x 3.5mm, and just 1.25mm in height. This low profile enables OEMs to use it in slim products, thus saving on PCB and case costs. It also has surface-mount terminations and can be fully integrated into standard and reflow soldering and production processes, in accordance with IEC61760-1. This saves time and reduces costs for the end equipment manufacturer.
Additionally, the switch includes a peg option, which reinforces the shear strength on the PCB, and an ESD pin option, which protects the device from electrostatic discharges.
"For applications that don't involve harsh environments, or require ruggedized components, the new PTS841 delivers the best price/performance ratio – with industry-standard operating life and performance, but at a lower price point than competing products," said Régis Clément, Global Product Manager at C&K.
Two versions of PTS841 are now available, with actuation forces of 180gf and 250gf, thus increasing the flexibility for customers to include the switch in a wide range of designs. The switch has an operating life of 100,000 cycles, is RoHS compliant, has an operating temperature range of -40°C to +85°C, and is rated to IP40 for ingress protection.
For more information on C&K's new PTS841, including details and specifications, click here: www.ckswitches.com/products/switches/product-details/Tactile/PTS841/.