C&K launches the first vandal-resistant sealed switches for use in hostile environments and remote locations
C&K launches the first vandal-resistant sealed switches for use in hostile environments and remote locations
By News Author | February 19, 2019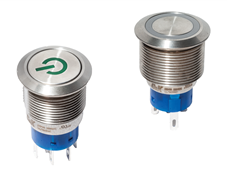 C&K, one of the world's most trusted brands of high-reliability switches, announces the launch of its ATP19 and ATP22 series anti-vandal sealed pushbutton switches. The new high-strength, lightweight switches are IP67/IK10 rated, ensuring their suitability for operation in harsh conditions and ability to withstand potential malicious damage. The switches are also corrosion resistant and offer the industry-standard ring-illuminated version in 19mm and 22mm diameters respectively.
Both the ATP19 and ATP22 series are available in momentary or self-lock actuation versions suitable for application versatility. The UL-certified switches use a scratch-resistant actuator with housings made from metal, making them particularly effective for use in remote and unsupervised locations where resilience to damage from vandalism is important. Besides using brass and aluminum material as switches' housing, the stainless steel version is available which provide impact protection to level of IK10.  
Able to withstand heavy physical abuse, including attempted damage using metal tools, the switches target applications such as control panels in car parks and traffic lights, industrial instruments, elevators, escalators, communication equipment and alarms, and safety and security systems.
A wide choice of actuator styles and many LED illumination indicator colors are available. The ATP19 and 22 are available with fixed-ring, moving-ring, spot and ring-plus-power-indicator actuators and various of actuation interfaces like flat, raised, dome configurations.
The snap-action actuator offers the user positive tactile feedback, and the switches are designed for a long lifecycle – up to 1,000,000 cycles for the momentary action and 500,000 for the self-lock version.
For more information on C&K's new ATP19 and ATP22 series anti-vandal sealed push-button switches, including details and specifications, click here: ATP19 | ATP22