C&K Develops Anti-Tampering Switch Series
C&K Develops Anti-Tampering Switch Series
By News Author | May 03, 2017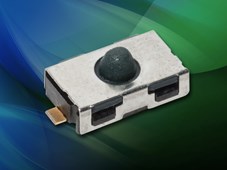 C&K, one of the world's most trusted brands of high-quality electromechanical switches, today announced a new series of detect switches, with extended lifetime and instant detection capabilities. Developed for use in next-generation communicating devices including smart meters, alarms and point of sales terminals, ATS switches deliver a cost-effective solution for applications that require reliable detection against opening or hacking of devices.
C&K's ATS series features a compact format at 6 x 3.8 mm footprint area and a low profile. With its 3.2 mm height, the switch, using a soft actuator, offers a significant mechanical travel of 1.1 mm. This includes an over-travel of 0.4 mm to provide designers an easy integration.
"In a wireless device, the biggest problem is energy management – especially when the source cannot be replaced or recharged," said Régis Clement, Global Product Manager at C&K. "Our new ATS Series was specifically designed to address these requirements, minimizing energy consumption to the maximum with Ultra Low Current and Normally Closed contact."
C&K's ATS switch is IP54-rated and resistant against corrosive agents, making it an ideal solution for harsh environments and anti-tampering applications.
The switches are available with standard lead-time, and shipped in reels of 2,000 pieces. For more information about the ATS series, please click here.