C&K Launches Space Splice High-Reliability One-Way Connectors for Harsh Environment Applications
C&K Launches Space Splice High-Reliability One-Way Connectors for Harsh Environment Applications
By News Author | April 19, 2016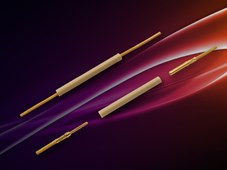 Compact, easy-to-use & resistant to high radiation & temperatures, C&K's new Space Splice connectors — an EPPL2 product — meet the highest quality requirements for satellite, payload, laboratory, avionics, military & medical equipment
C&K Components, a leading global manufacturer of electromechanical switches, smart card interconnect devices, and high-reliability connectors, launched its new Space Splice high-reliability connecting solution. A compact, easy-to-use alternative to manual splicing, the new, one-way Space Splice high-reliability connectors deliver high radiation and temperature resistance, low residual magnetism, and low degassing, and — manufactured in accordance with ESA/ESCC specifications — meet the highest quality requirements for satellite, payload, and other harsh environment applications, including: laboratory, avionics, military, and medical equipment. An EPPL2 (ESA/ESCC European Preferred Part List Part 2) product, the series accepts the most popular cable gauges (AWG 20 – AWG 30) and employs removable, D*MA crimpable contact technology that allows for both manual and guiding-tool-assisted insertion.
"Current satellite development processes still make some signal connections by hand, which, in addition to being labor-intensive, is less repeatable and more susceptible to failure than standardized solutions. Our newly patented Space Splice connectors replace this manual and error-prone operation with a standard, easy-to-use, high-reliability solution that is manufactured to the highest standards and especially ideal for one-way heater, thermistor, and multilayer insulator (MLI) connections in demanding harsh-environment applications, spanning satellites and other mil/aero applications to medical and laboratory use," said Remi Antoine, product manager, hi-rel space and avionics, C&K Components.
Featuring a PEEK insulator and copper-alloy socket and pin contacts finished with 1.27µm gold, C&K's Space Splice high-reliability connectors are rated for 300Vrms working voltage and 7.5A maximum current, exhibit < 200 Gamma residual magnetism (NMB) and > 1 x 108 Rads radiation resistance, and are designed for use in operating temperatures spanning -55°C to +125°C. Space Splice connectors measure ⌀3 x 29.5mm, weigh a maximum of 0.2g, and are shipped in bulk plastic bags containing 250 units. Accessories for the series include: a crimping tool, an extraction tool, a locator, and two contact probes for a retention tool.
View Space Splice Flyer