C&K Components' Rugged, Half Pitch TDP Series DIP Switch Meets Industrial Control & Logic Switching Requirements
C&K Components' Rugged, Half Pitch TDP Series DIP Switch Meets Industrial Control & Logic Switching Requirements
By News Author | January 14, 2013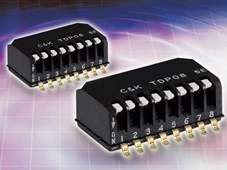 Ultra-miniature surface mount DIP switch provides visual confirmation of on/off status
C&K Components, a leading international supplier of tactile, toggle, rocker and pushbutton switches, and smart card interconnect devices, has developed a side-actuated DIP switch that combines miniaturization and high-reliability for logic switching within computers and industrial controls. The half pitch TDP Series DIP switch features a dual bifurcated wiping action that ensures reliable contact. When mounted horizontally, the side-actuation mechanism provides visual confirmation of the on/off status, ideal for logic switching grids where multiple signal paths must be manually routed via switchboards.
The SPST (single pole single throw) TDP Series DIP switch is available in two, four, six, eight and 10-position configurations. The DIP switch measures just 4.16mm above the PC board and features a 1.28mm layout pitch. Process-sealed for surface mount wash processing, the RoHS-compatible device features gold over nickel over copper alloy contacts and a UL 94V-0 PPS flame retardant housing. The TDP Series DIP switch is rated for 24VDC, 25mA (switching) and 50VDC, 100mA (steady state) operation with 1000 life cycles (make and break) at full load. The operating temperature range is -40°C to +85°C.
"Designed for logic switching and industrial control applications with limited real estate or footprint availability, the advanced ultra-miniature, half pitch, side-actuated TDP Series DIP switch provides both tactile and visual on/off confirmation," said Owen Camden, worldwide product manager for C&K Components. "The numerous mounting options and low-profile of the TDP Series increases PCB space and offers a uniquely flexible solution for design engineers."
Lead time for the TDP Series switches is stock to three weeks.
Attached File | TDP catalog pages - PDF (189.74 Kb)